2008: #89 – Nefertiti (Michelle Moran)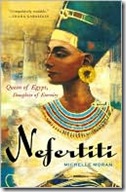 Book #89 was Nefertiti by Michelle Moran. The back of the book reads:
Nefertiti and her younger sister, Mutnodjmet, have been raised in a powerful family that has provided wives to the rulers of Egypt for centuries. Ambitious, charismatic, and beautiful, Nefertiti is destined to marry Amunhotep, an unstable young pharaoh. It is hoped that her strong personality will temper the young ruler's heretical desire to forsake Egypt's ancient gods.

From the moment of her arrival in Thebes, Nefertiti is beloved by the people but fails to see that powerful priests are plotting against her husband's rule. The only person brave enough to warn the queen is her younger sister, yet remaining loyal to Nefertiti will force Mutnodjmet into a dangerous political game; one that could cost her everything she holds dear.
I found this to be captivating. So little is known about this period of time that it may be only 10% fact, but it was still great. I wasn't expecting it to all be from Mutnodjmet's point of view, and I think it gave the story an extra oomph. Only through her sister's eyes can the reader see the true Nefertiti, who was never truly happy — even when she reached the pinnacle of power. The political maneuverings are incredible, and I found everything to be believable. Books like this tend to send me straight to Wikipedia for hours of reading. I really hope that someday I get the opportunity to return to Egypt and visit the ruins of Amarna.
Page count: 480 | Approximate word count: 144,000
2007: The Road (Cormac McCarthy)
2006: Dangerous Tides (Christine Feehan)