2008: #91 – Dark of the Moon (P.J. Parrish)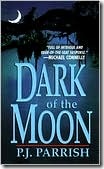 Book #91 was Dark of the Moon, the first book in the Louis Kincaid series by P.J. Parrish. The back of the book reads:
In a sleepy, secret-ridden southern town, there are those who still believe its best to leave the past alone… Thirty years ago, a young black man vanished from rural Black Pool, Mississippi–and his violent death remained shrouded in mystery. Now his skeletal remains have been discovered in a murky swamp, along with a length of rope entwined in its bones…a rope that is unmistakably a noose.

Abandoned by the white father he never knew, and estranged from his black mother, Louis Kincaid was glad to leave the hometown that had always treated him like an outcast. But nothing could have prepared him for the ominous reaction of the locals when he returned and started investigating the decades-old lynching. With a veil of suspicion and terror descending over the quiet streets of Black Pool, Kincaid must now uncover a trail of blood-chilling evil as he hunts a shadowy killer whose vengeance has only just begun…
I was sucked into this book almost immediately! The story is somewhat slow paced, but the author(s) manage to give you enough to keep you intrigued. It's set in 1983, which gives the racial situations an authenticity that I don't think would be there if it was set in the late '90s, when it was written. At the end of the book you're left with a mystery that's not quite completely solved, so it leaves you with something to think about. Will what happens in Black Pool come back to haunt or help Louis at some point in the future? I guess I'll have to read more books to find out!
The only downside here has nothing to do with the book itself. I've been reading a lot of books set in the deep south lately and I think I need a break from the Mississippi/Louisiana region for a while!
Page count: 410 | Approximate word count: 133,250
2007: Black Creek Crossing (John Saul)
2006: Year Zero (Jeff Long)