2008: #92 – Degree of Guilt (Richard North Patterson)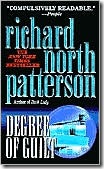 Book #92 was Degree of Guilt by Richard North Patterson. The back of the book reads:
Mary Carelli, one of the most powerful women in TV journalism, is charged with the murder of Mark Ransom, America's most eminent novelist. Her attorney, Christopher Paget, sets out to shock the courtroom with revelations about Ransom as a twisted sexual predator. But as the trial unfolds, it is Paget who will be surprised…by Mary's secret motive for murder…by evidence that Mary is lying…by a woman prosecutor who believes Mary invented the story of rape…and by an enigmatic judge with an agenda of her own….
There's a blurb on the front of this book that says it's "compulsively readable". That's no lie. Every time I picked up this book, I had a hard time putting it back down again. It is chocked full of conflicted characters, chief of them all being Christopher Paget. From the very beginning, you're never quite sure what exactly happened, and even at the end you continue to wonder… Was that the truth? Is Mary Carelli capable of telling the truth? And is knowing the truth always important?
It turns out that this is the second book in a series of four, but it stand very well by itself. It does have a great deal to do with the previous book, but all of the pertinent events were re-explained. This is only the second book by Richard North Patterson that I've read, and I don't know how he's escaped my notice for so long. Excellent, excellent read.
Page count: 534 | Word count: 183,461
2007: When the Bough Breaks (Jonathan Kellerman)
2006: 4th of July (James Patterson)