2010: #50 – Voices (Arnaldur Indridason)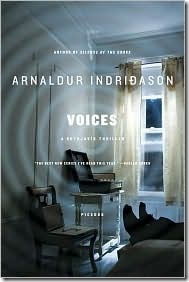 Book #50 was Voices, the third book in Arnaldur Indridason's Reykjavik Thriller series.  The back of the book reads:
Arnaldur Indridason took the international crime fiction scene by storm after winning England's CWA Gold Dagger Award for Silence of the Grave. Now, with the highly anticipated Voices, this world-class sensation treats American readers to another extraordinary Inspector Erlendur Sveinsson thriller.

The Christmas rush is at its peak in a grand Reykjavík hotel when Inspector Erlendur Sveinsson is called in to investigate a murder. The hotel Santa has been stabbed, and Erlendur and his detective colleagues have no shortage of suspects between hotel staff and the international travelers staying for the holidays.

But then a shocking secret surfaces. As Christmas Day approaches, Erlendur must deal with his difficult daughter, pursue a possible romantic interest, and untangle a long-buried web of malice and greed to find the murderer.

One of Indridason's most accomplished works to date, Voices is sure to win him a multitude of new American suspense fans.
Though I enjoyed the first two books in this series, I found this one to be a little dull.  I couldn't get interested in the plight of Gudlaugur, the murdered Santa. We never got enough of a sense of who he really was to develop any sort of feelings about him. Despite the looming Christmas holidays and the transient nature of Erlendur's pool of suspects, there was no sense of urgency or danger.  Indridason likes to combine a couple of different storylines, and even the secondary plot, the mystery of the abused boy that Elinborg was investigating, fell flat.  There was nothing to tie it into the overall story, and no solid resolution at the end. We did learn a little more about Erlendur as he stumbles through his life in his socially inept way, but even there there wasn't much progress made, other than a little more understanding between him and his troubled daughter Eva Lind.  If you'd like to try Indridason, I recommend his previous book, Silence of the Grave, but you can give this one a pass.  I'll probably read the next book because I enjoy reading about Indridason's Iceland, but I'll be hoping for a whole lot more.
This book was a review copy.
Page count: 320 | Approximate word count: 80,000
2009: Tell No One (Harlan Coben)
2008: Hollywood Crows (Joseph Wambaugh)
2007: Alone (Lisa Gardner)
2006: The Hostile Hospital (Lemony Snicket)
2005: Two for the Dough (Janet Evanovich)
Used in these Challenges: Countdown Challenge 2010; ARC Reading Challenge 2010; 2010 100+ Reading Challenge; Pages Read Challenge Season 2;