2008: Challenges – 1st in a Series Challenge 2009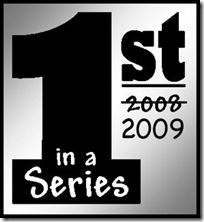 I, like J.Kaye, found the 2008 version of this challenge a little late in the year to participate, so I'm happy to jump in for 2009! The 1st in a Series Challenge is really pretty simple:
Anyone can join. You don't need a blog to participate.
Read 12 books that are the first in any series. You may read & list your chosen books any time during the year.
Challenge begins January thru December, 2009.
You can join anytime between now and December 31, 2009.
I'm not listing books ahead of time, but will build my list here as I go. Join me!
last updated: 7/23/09