2009: Challenges – 24 Hour Read-a-Thon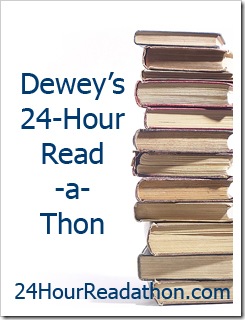 So did I mention that I've officially decided to participate in the 24 Hour Read-a-Thon?
This will be my first Read-a-Thon, so I have no expectations.  It's on October 24th, which is the perfect Saturday for it to fall on.  There's no VT football game that weekend, and the trip we were originally planning to Baltimore is happening the next weekend instead. The timing couldn't be better!
I really don't have a plan for the Read-a-Thon.  I've been hemming and hawing about pre-choosing books, and I just can't bring myself to do it.  I don't like to plan ahead.  I think what I'll likely do is start with finishing whatever book I happen to be reading at the time, and then probably work through some YA and chick-lit books I have in my review piles. I also will consider some of the romantic suspense/paranormal romances hanging around in my TBR collection.  Sherrilyn Kenyon is always a quick light read, and I have a few of her books still hanging around.
I have no expectations about how much reading I'm actually going to do, or how many books I'll finish.  I have no idea! But I'm gonna try to have fun doing it.