2008: Challenges – 2nds Challenge 2009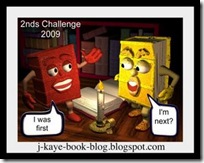 I won't even try to say that this is the last 2009 challenge I'm signing up for, because every time I say "This is the last one!" I sign up for another one.  No willpower, this one!
The 2nds Challenge is even simpler than the last one!
Anyone can join. You don't need to have a blog to participate.
Read 12 books by authors that you have only read once. It doesn't have to be a series.
You can join anytime between now and December 31, 2009. Don't start reading until January.
You may list your chosen books any time during the year. Change the list if needed.
Once again, I will be building my list as I go and listing them here.
last updated: 10/12/09
The Stupidest Angel – Christopher Moore
China Lake – Meg Gardiner
Undead and Unemployed – MaryJanice Davidson
The Masque of the Black Tulip – Lauren Willig
Fractured – Karin Slaughter
Killer Takes All – Erica Spindler
Spook – Mary Roach
Good in Bed – Jennifer Weiner
Catching Fire – Suzanne Collins
The Girl Who Played With Fire – Stieg Larsson
Cleopatra's Daughter – Michelle Moran
Silence of the Grave – Arnaldur Indridason