2008: A Giveaway! – Any Given Doomsday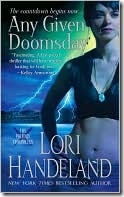 I received two ARCs of Any Given Doomsday by Lori Handeland from the LibraryThing Early Reviewers Group, and now I'd like to pass them on to you! One is unread, one is slightly used (a few spine creases).
The back of the book reads:
Elizabeth Phoenix once used her unique skills as a psychic to help in the Milwaukee Police Department's fight against injustice. But when Liz's foster mother is found viciously murdered—and Liz is discovered unconscious at the scene—her only memory of the crime comes in the form of terrifying dreams…of creatures more horrific than anything Liz has seen in real life. What do these visions mean? And what in the world do they have to do with her former lover, Jimmy Sanducci?

While the police question Jimmy in the murder, Jimmy opens Liz's eyes to a supernatural war that has raged since the dawn of time in which innocent people are hunted by malevolent beings disguised as humans. Only a chosen few have the ability to fight their evil, and Jimmy believes Liz is among them. Now, with her senses heightened, new feelings are rising within Liz—ones that re-ignite her dangerous attraction to Jimmy. But Jimmy has a secret that will rock Liz to her core…and put the survival of the human race in peril.
You can read my review here.  It was a new take on the paranormal world for me, and I enjoyed it despite a few flaws.
There are 3 ways to enter!
Leave me a comment.  Please make sure you leave a valid email address.
Post about my giveaway on your blog or MySpace or Facebook or wherever! Just leave me a link to your post.
Subscribe to my feed! Just leave me a comment that you did!
Each person is allowed a maximum of 3 entries. Entries will be accepted until midnight on Monday, November 24, and I will draw two winners on Tuesday, November 25. I'm mailing these out myself, so I'm opening it up worldwide!
Good luck!