2011: It's Monday! What are you Reading? (June 6)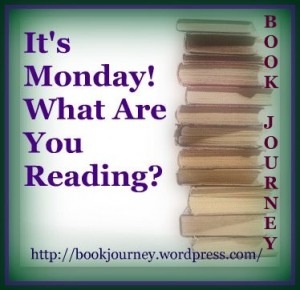 It's not apparent from the reviews I've posted, but I'm really not all that far off my reading pace from last year. Life and work have hurt me a bit, especially in February and March when I got super bogged down by book club reads. But now, it's summer, my big work project is done, and things are looking up! Maybe I'll actually get the 8 reviews I haven't written posted soon 🙂
Last week was particularly productive. Over Memorial Day weekend, I listened to I Love You, Beth Cooper by Larry Doyle in its entirety. The light-hearted adventure was perfect to listen to while painting my bathroom. I also finished The Cold Room by J.T. Ellison. Turns out, this is a series I shouldn't have jumped into the middle of. Not that I couldn't follow the story — there was just a lot of (apparently important) background alluded to that I was missing. Finally, I finished Hush by Kate White. This turned out to be just okay. The main character drove me nutsy, something I'll elaborate on in my review.
I also gave up on a book. I was offered a galley of a book called Hotel Angeline, which was the result of a live writing experiment in Seattle last year. I hate to say much bad about it, because the proceeds of the book go to charity, but the book and I didn't click. It was a little too disjointed for my tastes, but it's certainly interesting in an experimental fiction sort of way. In addition, the Kindle-compatible galley from NetGalley was ATROCIOUS. I'm getting very very very tired of NetGalley's half-assed Kindle conversions. VERY. It does an extreme disservice to the author. If you can't provide a half-decently formatted version for the Kindle, then don't offer one at all.
Whoops! Tangent.
This week, I have three books on the go, as usual. On my nightstand is an ARC of Karin Slaughter's Fallen. I'm more than half-way through, and think it's great so far. On my Kindle I've started Bloodline by Mark Billingham, another ARC from NetGalley. At least the formatting on this one is 90% there. And on audio, I'm listening to Madapple by Christina Meldrum. It's really intriguing so far.
So that's what I'm reading! What about you?
It's Monday! What are you Reading? is hosted by Sheila at Book Journey.