2008: Winners of the Michelle Moran Giveaway!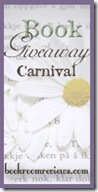 And we have three winners!
The winners of the signed copies of The Heretic Queen are Natasha and Amy W!
The winner of the signed paperback of Nefertiti is Carolyn S!
Congratulations ladies! I will be sending you all an email, ASAP. Thank you everyone for entering, and I hope you'll stick around for more giveaways in the future!