2009: Challenges – The TwentyTen Challenge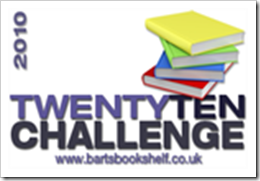 The TwentyTen Challenge, hosted by Bart at Bart's Bookshelf, is a nice little play on the year, and a whole lot easier than the 101010 challenge. Here are the guidelines:
Read 2 books from each category, making a requirement of 20 books total.
The categories are intended to be loose guidelines only, if you decide it fits, then it fits. (Apart from those marked **)
Categories marked with ** have tighter rules, and these must be followed.
Each book can only qualify for one category.
Crossovers with other challenges are allowed.
Books read from 01/01/2010 to 12/31/2010 are eligible.
Sign up is at Bart's Bookshelf! The categories (and my list) are below: (last updated 6/13/10)