2009: #1 – Eclipse (Richard North Patterson)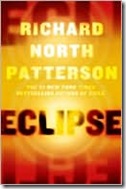 Book #1 of 2009 was Eclipse by Richard North Patterson, due to be released tomorrow. The back of the book reads:
The spellbinding story of an American lawyer who takes on a nearly impossible case—the defense of an African freedom fighter against his corrupt government's charge of murder.
Damon Pierce's life has just reached a defining moment: a gifted California lawyer, he's being divorced by his wife and his work often seems soulless. Then he receives a frantic e-mail from Marissa Brand Okari—a woman he loved years ago—and decides to risk everything to respond to her plea for help.
Marissa's husband, Bobby Okari, is the charismatic leader of a freedom movement in the volatile west African nation of Luandia, which is being torn apart by the world's craving for its vast supply of oil. Bobby's outspoken opposition to the exploitation of his homeland by PetroGlobal—a giant American oil company with close ties to Luandia's brutal government—has enraged General Savior Karama, the country's autocratic ruler. After Bobby leads a protest rally during a full eclipse of the sun, everyone in his home village is massacred by government troops. And now Bobby has been arrested and charged with the murder of three PetroGlobal workers. Still drawn to Marissa, Pierce agrees to defend Bobby, hoping to save both Bobby and Marissa from almost certain death.  But the lethal politics of Luandia may cost Pierce his life instead.
Culminating in a dramatic show trial and a desperate race against time, Eclipse combines a thrilling narrative with a vivid look at the human cost of the global lust for oil. Here is Richard North Patterson at his compelling best, confirming his place as our most provocative author of popular fiction.
What Patterson has done here is create a really great story in an interesting landscape with a few really interesting characters. The story is set in Luandia, which is loosely based on the country of Nigeria. Bobby Okari fashions himself a modern-day Nelson Mandela, fighting for the good of his people, the Asari.  When he is accused (perhaps wrongly, perhaps not) of orchestrating the lynching of three oil workers, his wife, the American Marissa, calls up an old friend for legal help.  Damon Pierce is a lawyer who specializes in international war crimes cases.  He has struggled his whole life to feel like he is contributing something to society and the greater good, and by helping Marissa and representing Bobby Okari, he hopes to reclaim that feeling.  Tied up with these three are a whole host of nefarious Luandian government officials and oil barons, none of them anyone you can believe or trust.
The story here is very captivating, because you can't ever by sure whether Pierce will succeed in saving Okari's life, or if they will all lose. Unfortunately, it does fall flat in a few places.  The situation in Luandia is explained over and over and over again in the first third of the book, until you just want to shout, "Okay, I get it! It's a hellhole!"  How many times do we have to be shown the same situations?  I feel like Patterson is shoving his own personal politics down our throats a bit.  Also, Pierce is a very underdeveloped character.  You know about his career and his feelings for Marissa, but I never felt like I really knew him. But when it was all said and done, I felt it was a compelling, solid read and I was very glad I had read it.
Page count: 332 | Approximate word count: 130,892
2008 – Innocent in Death (J.D. Robb)
2007 – Acceptable Risk (Robin Cook)
2006 – Conspiracy in Death (J.D. Robb)
2005 – The Poisonwood Bible (Barbara Kingsolver)
Used in these Challenges: The Naming Conventions Challenge; The Countdown Challenge; The Genre Challenge; 9 for 09 Challenge