2009: #2 – Skin Tight (Carl Hiaasen)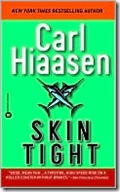 Book #2 was Skin Tight by Carl Hiaasen.  The back of the book reads:
Somebody wants Mick Stranahan dead. Mick is sure of this, because he just had to dispatch a pistol-packing intruder with the help of a stuffed marlin head. But who would want to hurt a former Florida state investigator? The answer is plenty of people-as Stranahan soon finds himself acquainted with a litter of nefarious players, including a hit man whose skin problems could fill a comprehensive (if bizarre) medical textbook, a lawyer of questionable repute who advertises on billboards, and a TV show host whose taste for sensationalism is exceeded only by his vanity. The whole thing gets downright harrowing for the ex-cop in one of Hiaasen's most breathtaking, madcap romps ever-where even a plastic surgeon with extremely shaky hands waits to wring Stranahan's neck.
Carl Hiaasen creates the craziest characters.  I would expect no other author to create an ex-Amish hit man with a horrible facial disfigurement and a weed whacker for a hand replacement, and make him believable.  Unlike some of Hiaasen's other novels, the situation here isn't completely outrageous… just the cast (including Reynaldo Flemm, who is so obviously patterned after Geraldo Rivera in his early days of being attacked by white supremacists).  Someone is trying to kill Mick Stranahan, and once he discovers that it's related to the disappearance of a young woman four years ago, he figures the best way for his life to return to its peaceful normality is for him to solve that mystery. It becomes a game of kill or be killed for Mick, and along the way he may just have met his 6th wife.  I enjoyed this much more than the last Hiaasen I read, Sick Puppy.
Page count: 373 | Word count: 112,216
2008 – The Indictment (Barry Reed)
2007 – True Colors (Doris Mortman)
2006 – Cyclops (Clive Cussler)
2005 – Naked in Death (J.D. Robb)
Used in these Challenges: 9 for 09 Challenge; 100+ Reading Challenge 2009; The 999 Challenge; A-Z 2009 Challenge; Read Your Own Books Challenge