2018: #19 – The Ex (Alafair Burke)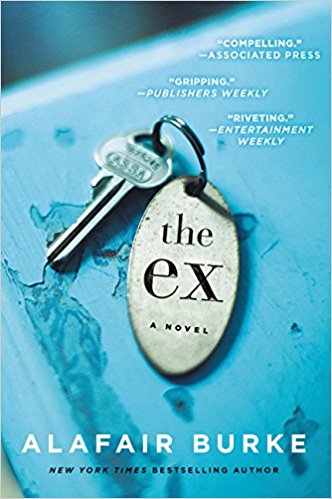 The Ex
by
Alafair Burke
Published by
Harper Paperbacks
on January 31, 2017
Genres:
legal thriller
Pages:
304


Also by this author:
Long Gone
Twenty years ago she ruined his life. Now she has the chance to save it.

Widower Jack Harris has resisted the dating scene ever since the shooting of his wife Molly by a fifteen-year-old boy three years ago. An early morning run along the Hudson River changes that when he spots a woman in last night's party dress, barefoot, enjoying a champagne picnic alone, reading his favorite novel. Everything about her reminds him of what he used to have with Molly. Eager to help Jack find love again, his best friend posts a message on a popular website after he mentions the encounter. Days later, that same beautiful stranger responds and invites Jack to meet her in person at the waterfront. That's when Jack's world falls apart.

Olivia Randall is one of New York City's best criminal defense lawyers. When she hears that her former fiancé, Jack Harris, has been arrested for a triple homicide—and that one of the victims was connected to his wife's murder—there is no doubt in her mind as to his innocence. The only question is who would go to such great lengths to frame him—and why?

For Olivia, representing Jack is a way to make up for past regrets, to absolve herself of guilt from a tragic decision, a secret she has held for twenty years. But as the evidence against him mounts, she is forced to confront her doubts. The man she knew could not have done this. But what if she never really knew him?
This is the first Alafair Burke I've picked up, and I'm glad I did. It made me realize it had been a while since I read a good thriller and how much I enjoy them!
The main character here is Olivia Randall, a New York defense attorney who receives a call one morning from the daughter of her ex-fiance, Jack. He's been arrested for murder, and the apparent primary victim is a man connected to the murder of Jack's wife. Jack's story? He was only there to meet a woman he was interested in, and he has no idea what happened.
It's up to Olivia to figure out what really happened. Is Jack telling the truth, or did he really do it? And if he's innocent, why does everything point directly to him? And is it all Olivia's fault? Did she break him, 20 years ago?
There are a lot of good twists and turns here, and I enjoyed the ride!
Other reviews:
"I highly recommend this novel to those of you who enjoy slower-paced thrillers, specifically those of you who enjoy legal thrillers." – thebookwormsfantasy
"The Ex is one of those novels that I liked because of the author's writing style and because she made her characters somewhat unlikable. I know this sounds odd, but I do like my characters to be somewhat flawed as they seem more realistic and empathetic, and many of these characters were vain and condescending." – Curling Up by the Fire
"If you're a fan of legal/psychological/procedural thrillers, this is one you'll want to read. I'll be adding Burke to the list of authors I can reliably turn to and whose backlist I need to examine, because this is exactly what I enjoy when I'm in the mood for some distraction." – Book Hooked Blog