2010: #62 – Undertow (Sydney Bauer)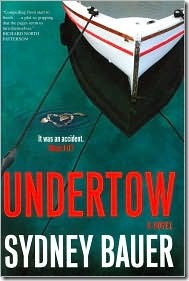 Book #62 was Undertow by Sydney Bauer.  The back of the book reads:
A girl is dead…and not just any girl.

Christina Haynes is the teenage daughter of a popular US Senator, and when she drowns moments after a conversation at sea with her best friend's mother, Boston Lawyer David Cavanaugh faces his toughest case to date.

What appears to be a straightforward, tragic accident in the waters off Cape Ann Massachusetts, turns into something else entirely as Rayna Martin, a respected African-American attorney, is charged with her murder.

With the victim's father one of the most powerful politicians in the country and the Assistant District Attorney prepared to put his personal ambition ahead of legal justice, David soon discovers that his most dangerous battle is taking place outside the court room.

Lies, deception, blackmail, threats…and finally the precision of an assassin's bullet combine to create a shocking finale in this exciting debut from Australian author Sydney Bauer.
I was pleasantly surprised by this, since I had never heard of the author before. Bauer has given us a story of hatred and bigotry gone seriously awry, but with a twist. It's not often you hear a story of a black person being accused of a hate crime, especially a well-respected female lawyer who's also a single mom. Overall, the story moves well and is mostly believable, but the climax of the trial was way way over the top. The theatrics employed would never be allowed in a real courtroom, and the judge grew very liberal about what was and wasn't relevant, seemingly to satisfy his own curiosity. On the plus side, I didn't expect the final twist, yet it fit perfectly into the story. I was able to pick up that the author is not American (she's Australian); a few phrases that aren't used here, like "in hospital", snuck through.
I do have one teensy complaint about the audio production.  It is absolutely rife with stereotypically bad Boston accents. Only select characters had the accent, regardless of if they've lived in Boston their whole life or not.  Could've been toned down a bit.
Audiobook length: 15 hrs 54 min | Approximate word count: 112,000
2009: Doomed Queens (Kris Waldherr)
2008: The Plot Against America (Philip Roth)
2007: The Harlequin (Laurell K. Hamilton)
2006: M is for Malice (Sue Grafton)
2005: Blood Test (Jonathan Kellerman)
Used in these Challenges: 2010 100+ Reading Challenge; Audiobook Challenge; New Author Challenge; Thriller & Suspense Reading Challenge;