2020: #41 – Takedown Twenty (Janet Evanovich)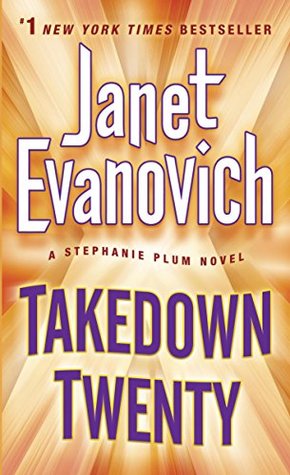 Takedown Twenty
by
Janet Evanovich
Series:
Stephanie Plum #20
Published by
Bantam
on November 19, 2013
Genres:
amateur investigator
,
comedic fiction
,
mystery
Pages:
307


Also by this author:
One for the Money
,
Two for the Dough
,
Three to Get Deadly
,
Four to Score
,
High Five
Also in this series:
One for the Money
,
Two for the Dough
,
Three to Get Deadly
,
Four to Score
,
High Five
New Jersey bounty hunter Stephanie Plum knows better than to mess with family. But when powerful mobster Salvatore "Uncle Sunny" Sunucchi goes on the lam in Trenton, it's up to Stephanie to find him. Uncle Sunny is charged with murder for running over a guy (twice), and nobody wants to turn him in—not his poker buddies, not his bimbo girlfriend, not his two right-hand men, Shorty and Moe. Even Trenton's hottest cop, Joe Morelli, has skin in the game, because—just Stephanie's luck—the godfather is his actual godfather. And while Morelli understands that the law is the law, his old-world grandmother, Bella, is doing everything she can to throw Stephanie off the trail.

It's not just Uncle Sunny giving Stephanie the run-around. Security specialist Ranger needs her help to solve the bizarre death of a top client's mother, a woman who happened to play bingo with Stephanie's Grandma Mazur. Before Stephanie knows it, she's working side by side with Ranger and Grandma at the senior center, trying to catch a killer on the loose—and the bingo balls are not rolling in their favor.

With bullet holes in her car, henchmen on her tail, and a giraffe named Kevin running wild in the streets of Trenton, Stephanie will have to up her game for the ultimate takedown.
No matter what's happening in our world, in Stephanie Plum's neighborhood in Trenton, very little changes.
Stephanie is still chasing bad guys for a living, helped along by Lula and getting her butt saved by Ranger when she get in a little too deep. Joe is also still in the picture, and still Stephanie's number 1 — though she's not sure either of them are ready to REALLY commit.
The bad guy Stephanie is chasing this time is a real problem. Mob boss Sunny happens to be Joe's godfather, and no one, especially Joe's family, is interested in helping her track him down. She's going to funerals and poker clubs, and crossing paths with a giraffe that no one else seems to be noticing. She's also helping Ranger try to figure out who is killing old ladies and leaving them in dumpsters. It's all making her realize that maybe she doesn't want to be a bounty hunter anymore. For real, this time.
These books are always a nice palette cleanser after I've read something unpleasant, and I enjoyed this one more than the few before it. If you've read more than a few in this series, you know what to expect. This entry won't disappoint.
I read this for the PopSugar Reading Challenge this year — this book fulfilled the "book with '20' or 'twenty' in the title" prompt.
Other reviews:
"Some think the series has gotten old and tiresome. Others see it as too repetitive. As a stand-alone book, forgetting about any of the others, it's a solid story worth 4+ star." – This is My Truth Now
"Evanovich needs to end this series. She's obviously lost the heart of Stephanie Plum, and I know I'd appreciate her not writing any more half-hearted stories like Takedown Twenty." – Books, Movies, Reviews! Oh My!
"At it's heart, TAKEDOWN TWENTY is a mystery; and there are definitely a few mysteries in this novel. I don't think any reader will be all that shocked when the secrets are revealed (except maybe the one about why there a giraffe running around town); however, I didn't spend a lot of time trying to figure them out." – Booking Mama