2009: #11 – The Brass Verdict (Michael Connelly)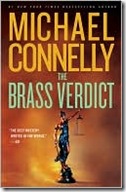 Book #11 was The Brass Verdict, Michael Connelly's second Mickey Haller book (with a tie-in to the Harry Bosch series).  The back of the book reads:
Things are finally looking up for defense attorney Mickey Haller. After two years of wrong turns, Haller is back in the courtroom. When Hollywood lawyer Jerry Vincent is murdered, Haller inherits his biggest case yet: the defense of Walter Elliott, a prominent studio executive accused of murdering his wife and her lover. But as Haller prepares for the case that could launch him into the big time, he learns that Vincent's killer may be coming for him next.

Enter Harry Bosch. Determined to find Vincent's killer, he is not opposed to using Haller as bait. But as danger mounts and the stakes rise, these two loners realize their only choice is to work together.

Bringing together Michael Connelly's two most popular characters, The Brass Verdict is sure to be his biggest book yet.
I have not yet read Connelly's first Mickey Haller novel, but it didn't make a difference.  I really liked Mickey.  He felt real, probably because he has some pretty significant flaws.  However, he's a much more honest defense attorney than you usually find in fiction.  His personal life may be a mess, but in the courtroom, he's all business.  I've read a couple of the Harry Bosch books and find him to be quite a heavy character, so Mickey is a bit of a breath of fresh air.
I also thought the storyline was quite good.  There's a lot of twists and turns that keep you guessing, but everything makes sense.  I especially liked the final twist, which provides a further tie-in between the Haller and Bosch books.  All in all, this was pretty great!
Page Count: 422 | Approximate word count: 128,698
2008: The Bone Garden (Tess Gerritsen)
2007: Prince of Fire (Daniel Silva)
2006: L is for Lawless (Sue Grafton)
2005: The Wide Window (Lemony Snicket)
Used in these Challenges: 100+ Reading Challenge 2009; 2009 ARC Reading Challenge; The 999 Challenge; A-Z 2009 Challenge;