2009: #112 – Glass Houses (Rachel Caine)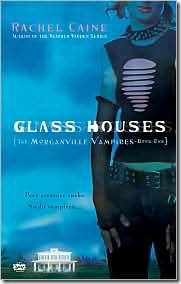 Book #112 was Glass Houses, the first book in Rachel Caine's Morganville Vampires series.  The back of the book reads:
Welcome to Morganville, Texas.

Just don't stay out after dark.

College freshman Claire Danvers has had enough of her nightmarish dorm situation, where the popular girls never let her forget just where she ranks in the school's social scene: somewhere less than zero.

When Claire heads off-campus, the imposing old house where she finds a room may not be much better. Her new roommates don't show many signs of life. But they'll have Claire's back when the town's deepest secrets come crawling out, hungry for fresh blood.
I found this to be a pleasant surprise.  It's young adult, so it's not super gory or super scary, but the girl-on-girl violence is super cruel and unfortunately, probably not much of an exaggeration. And the romances are sweet. I liked meeting Claire and her new roommates.  Caine also makes Morganville a particularly creepy place to live.  The feeling it invoked in me was like one of those dreams where you're being chased and can't find a way to escape.  My one complaint about the book is that I didn't like the last chapter with its manufactured cliff-hanger.  I would have rather had that event open the next book – it didn't really fit – but it wasn't enough to discourage me from continuing with this series.
Other reviews:
Rachel Caine: Glass House (The Morganville Vampires Book 1) – Book Review
Just Listen Book Reviews: Glass Houses by Rachel Caine.
Book Review : Glass Houses by Rachel Caine
Just Your Typical Book Blog (Main Site): Glass Houses – The Morganville Vampires Book One by Rachel Caine
MariReads: Book Review- Glass Houses (Morganville Vampires) by Rachel Caine
Page count: 256 | Word count: 74,107
2007: The Pillars of the Earth (Ken Follett)
2006: Under the Overtree (James A. Moore)
Used in these Challenges: Random Reading Challenge; Countdown Challenge 2010;