2018: #18 – All the Crooked Saints (Maggie Stiefvater)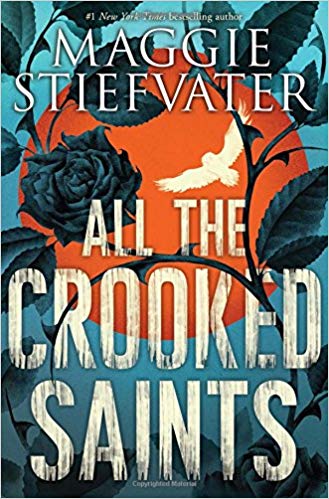 All the Crooked Saints
by
Maggie Stiefvater
Published by
Scholastic Press
on October 10, 2017
Genres:
y/a fantasy
,
young adult
Pages:
320


From bestselling author Maggie Stiefvater, a gripping tale of darkness, miracles, and family. Saints. Miracles. Family. Romance. Death. Redemption.

Here is a thing everyone wants: A miracle.

Here is a thing everyone fears: What it takes to get one.

Any visitor to Bicho Raro, Colorado is likely to find a landscape of dark saints, forbidden love, scientific dreams, miracle-mad owls, estranged affections, one or two orphans, and a sky full of watchful desert stars.

At the heart of this place you will find the Soria family, who all have the ability to perform unusual miracles. And at the heart of this family are three cousins longing to change its future: Beatriz, the girl without feelings, who wants only to be free to examine her thoughts; Daniel, the Saint of Bicho Raro, who performs miracles for everyone but himself; and Joaquin, who spends his nights running a renegade radio station under the name Diablo Diablo.

They are all looking for a miracle. But the miracles of Bicho Raro are never quite what you expect.
Magical realism usually isn't my thing, but I enjoyed this more than I expected to. This is mostly the story of the Soria family, who invite travelers to their Colorado desert compound and then perform miracles. These aren't the traditional sort of miracles, because before one can be healed, they must work through their darkness, which often manifests itself in some strange physical abnormality. For example, turning one into a giant, and giving another a rain cloud that rains on her all of the time. But once the Saint's part is through, they are not allowed to interfere with the "pilgrims", lest their darkness rebound back onto them, with terrible consequences.
The book focuses on three cousins, Daniel, the current Saint, Beatriz, who struggles with emotions, and Joaquin, who dreams of one day being a DJ for more than their pirate radio station built in the back of a moving truck. We also follow a couple of the pilgrims that have come to town, including Pete, a boy who has come to town not in search of a miracle, but a job. When the darkness comes to one of them and they must leave, the rest of the family is torn between finding them and probably spreading the darkness to themselves and letting him be gone forever.
There is a lot of pain and healing in this book, and it's all beautifully written. I would pick up another Maggie Stiefvater book.
Other reviews:
"The word I would use for this book is probably 'hypnotizing.' It's got a very distinctive third-person-omniscient narrator who's almost as present in the text as any of the characters – almost like the voice-over in a telenovela if the voice-over were calm and all-knowing and a little bit angsty." – Mugglenet.com
"I don't know how I feel about the combination of magical realism and outright magic. The book did take a while to get moving. But I liked all the characters. I liked the descriptions of the desert." – Twenty Percent True
"Something else I really enjoyed in the novel was the stunning imagery. From the first paragraph of the book I was completely hooked (plus it appealed to the star obsessive in me by saying (of miracles and radio waves) 'it does not take them long to part ways with the ground and head out to the stars. Wouldn't we all if we had the chance?' to which I was just like yes, yes I would)." – Anatomy of a Book Thief