2009: #117 – Seize the Night (Sherrilyn Kenyon)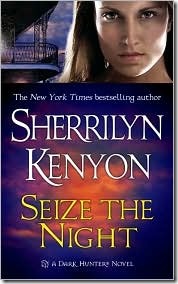 Book #117 was Seize the Night, the seventh book in Sherrilyn Kenyon's Dark Hunter series. The back of the book reads:
Valerius isn't a popular Dark-Hunter-he's a Roman, which means that the largely Greek Hunters have a major grudge against him and his civilization for superceding them. To make things worse, he's very conscious of his aristocratic background and breeding. So it serves him right when he runs into Tabitha Devereaux. She's sassy, sexy, and completely unwilling to take him seriously. (Not to mention that she's the twin sister of the wife of former Dark-Hunter Kyrian-Val's mortal enemy.) What Tabitha does take seriously is hunting and killing vampires-and soon she and Val have to grapple with the deadliest of all Daimons-one who's managed to come back from the dead, and one who holds a serious grudge against both of them. To win against evil, Val will have to loosen up, learn to trust, and put everything on the line to protect a man he hates and a woman who drives him nuts.
I really do like these Dark Hunter books.  They're quick and steamy and don't really require a lot of extra thought. Tabitha is one of the more interesting heroines in Kenyon's world, a woman who does more sticking up for herself than some of the women in this series. I did think that this one addressed an interesting issue… What is life like for a Dark Hunter who has been given back his soul?  How do they deal with no longer being immortal and having to worry about things like disease, bills, and bad knees?  Though it is brief, I thought it was one of the better parts of the whole book.  Unfortunately,  Kenyon decides to sweep it all under the rug with a little manufactured magic that rends all parties involved immortal again (or for the first time, for the humans involved).  I think I would have liked to see that theme continued in some of the later books rather than the quick happily ever after.
Page count: 352 | Word count: 91,207
2007: Heartsick (Chelsea Cain)
Used in these Challenges: Read Your Own Books Challenge; Countdown Challenge 2010;