2021: #72 – The Bride Test (Helen Hoang)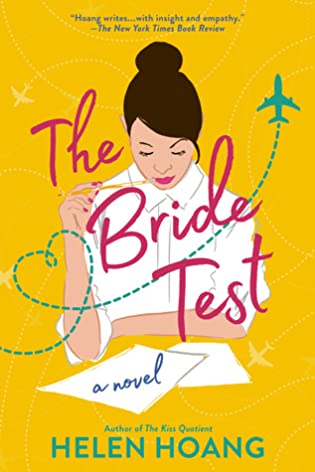 The Bride Test
by
Helen Hoang
Series:
The Kiss Quotient #02
Published by
Berkley
on May 7, 2019
Genres:
romance
,
contemporary romance
Pages:
296


Also by this author:
The Kiss Quotient
Also in this series:
The Kiss Quotient
Khai Diep has no feelings. Well, he feels irritation when people move his things or contentment when ledgers balance down to the penny, but not big, important emotions—like grief. And love. He thinks he's defective. His family knows better—that his autism means he just processes emotions differently. When he steadfastly avoids relationships, his mother takes matters into her own hands and returns to Vietnam to find him the perfect bride.

As a mixed-race girl living in the slums of Ho Chi Minh City, Esme Tran has always felt out of place. When the opportunity arises to come to America and meet a potential husband, she can't turn it down, thinking this could be the break her family needs. Seducing Khai, however, doesn't go as planned. Esme's lessons in love seem to be working…but only on herself. She's hopelessly smitten with a man who's convinced he can never return her affection.

With Esme's time in the United States dwindling, Khai is forced to understand he's been wrong all along. And there's more than one way to love.
I didn't like this as much as I liked The Kiss Quotient, but I still thought it was very enjoyable. I like the strong families that Hoang writes around her characters. The miscommunication parts of this story are quite frustrating, but also understandable due to Khai's neurodiversity. The one thing that made me slightly uncomfortable was the treatment of Esme's relationship with her daughter. It often felt like she was an afterthought, except when it served the plot (like a nightmare about her leading to Esme in Khai's bed). I definitely will read more Hoang though, because there is a lot here that is good.
I read this for the following reading challenges:
Other reviews:
"The romance was so sweet that it made me cry more than a couple of times. I was rooting for Khai and Esme as soon as they connected, and it was beautiful to see that so many other characters were as well. Not everyone, autistic or not, is capable of expressing emotion through words as well as others, and while Khai was busy denying that he had emotions, they bled through in all of his actions." — Leah's Books
"Of course, the author herself is diagnosed with autism, making her take on Khai's character credible and convincing. The author's passion to tell these people's stories translated to both Khai and Esme as layered characters with real-life problems, insecurities, and motivations. Both of them jumped off the page and made me, the reader, care for their happiness." — rurouni jenni reads
"If you thought that Helen Hoang succeeded in writing only one good book, you couldn't be more wrong. I loved her first book The Kiss Quotient and I equally enjoyed The Bride Test. Helen is an amazing author creating diverse books where she talks about autism and different cultures without missing the romance and the sensuality." — Elena's Bookblog