2009: Challenges – 2nds Challenge Completed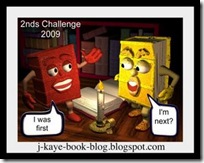 Another challenge down! This one is the 2nds Challenge hosted by J.Kaye.  Here's my final list of books:
The Stupidest Angel – Christopher Moore
China Lake – Meg Gardiner
Undead and Unemployed – MaryJanice Davidson
The Masque of the Black Tulip – Lauren Willig
Fractured – Karin Slaughter
Killer Takes All – Erica Spindler
Spook – Mary Roach
Good in Bed – Jennifer Weiner
Catching Fire – Suzanne Collins
The Girl Who Played With Fire – Stieg Larsson
Cleopatra's Daughter – Michelle Moran
Silence of the Grave – Arnaldur Indridason
This was another challenged I enjoyed, and I'll definitely be joining again next year!