2009: Challenges – The Year of the Historical Reading Challenge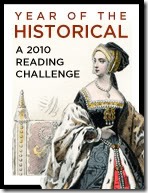 Hey, it's a new challenge! I am joining the Year of the Historical reading challenge, hosted by Lurv a la Mode.
The idea is to read one historical book every month in 2010.  These can be straight history, historical fiction, or even historical romances.  I'll be listing my books here!
list updated 3/3/10
Shogun – James Clavell 
Night Fire – Catherine Coulter
The Kitchen House – Kathleen Grissom   
Outrageous by Christina Dodd