2011: #2 – Star Island (Carl Hiaasen)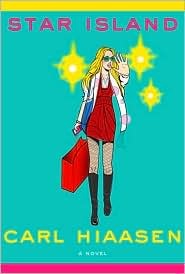 Book #2 was Star Island by Carl Hiaasen.  The back of the book reads:
Meet twenty-two-year-old Cherry Pye (née Cheryl Bunterman), a pop star since she was fourteen—and about to attempt a comeback from her latest drug-and-alcohol disaster.

Now meet Cherry again: in the person of her "undercover stunt double," Ann DeLusia. Ann portrays Cherry whenever the singer is too "indisposed"—meaning wasted—to go out in public. And it is Ann-mistaken-for-Cherry who is kidnapped from a South Beach hotel by obsessed paparazzo Bang Abbott.

Now the challenge for Cherry's handlers (über–stage mother; horndog record producer; nipped, tucked, and Botoxed twin publicists; weed whacker–wielding bodyguard) is to rescue Ann while keeping her existence a secret from Cherry's public—and from Cherry herself.

The situation is more complicated than they know. Ann has had a bewitching encounter with Skink—the unhinged former governor of Florida living wild in a mangrove swamp—and now he's heading for Miami to find her . . .

Will Bang Abbott achieve his fantasy of a lucrative private photo session with Cherry Pye? Will Cherry sober up in time to lip-synch her way through her concert tour? Will Skink track down Ann DeLusia before Cherry's motley posse does?

All will be revealed in this hilarious spin on life in the celebrity fast lane.
If you love Carl Hiaasen, there's no surprises here.  It's your usual mix of wacky characters put into a wacky situation that more often than not, is the result of their own despicable actions.  In the midst of all the less-than-savory characters is your beacon of shining hope: Ann DeLusia. All Ann wants is to be an actress, but the novelty of pretending to be Cherry Pye is getting old. She's already trying to figure out how to extract herself from her job when she's mistakenly nabbed by Bang Abbot, a paparazzo who becomes obsessed with Cherry after a brief, but intimate, encounter with the inebriated starlet. He has dreams of cementing Cherry's legacy with a Marilyn Monroe-esque photo collection, and it turns out that Ann is his ticket in.
While the story is mostly solid, there were some weak points.  I really couldn't muster up a care for the Jackie Sebago/real-estate scam storyline, which really just seemed like a reason to bring Detective Reilly into it.  I also thought the ending was weak.  After Ann is rescued (sort of) and the scheming to keep her quiet begins, I really expected her to go out with a bit more of a bang.  The final confrontation in the nightclub is pretty bleh.
But, Hiaasen is still one of my go-to authors for humor and adventure.  His characters are over-the-top without being fantastical, and you usually can find some sort of message amidst the chaos. This was well worth the listen.
Audiobook length: 11 hrs 30 min | Approx. word count: 105,600 ('11 total: 209,600)
2010: Shogun (James Clavell)
2009: Skin Tight (Carl Hiaasen)
2008: The Indictment (Barry Reed)
2007: True Colors (Doris Mortman)
2006: Cyclops (Clive Cussler)
2005: Naked in Death (J.D. Robb)
Used in these Challenges: Countdown Challenge 2011; 2011 Audiobook Challenge; Outdo Yourself Reading Challenge 2011;