2009: #12 – All Night Long (Jayne Ann Krentz)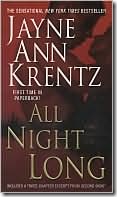 Book #12 was All Night Long by Jayne Ann Krentz.  The back of the book reads:
An exciting novel of passion, murder, small-town secrets, and scandal brought to light.

Shy, studious Irene Stenson and wild, privileged Pamela Webb had been the best of friends for one short high school summer. Their friendship ended the night Pamela dropped Irene off at home-and Irene walked in to discover her parents' bodies on the kitchen floor. It was ruled a murder-suicide, and Irene fled the northern California town of Dunsley. But seventeen years later, when Pamela sends a cryptic e-mail asking for help, Irene returns to her hometown to find her old friend has died suddenly, leaving behind a lot of ugly, unanswered questions.

Caught up in a firestorm of desperate deceit and long-buried secrets, Irene knows it would probably be smarter to just pack up and leave Dunsley behind again, but her reporter's instinct-and her own hunger to know the truth-compel her to extend her stay at the local lodge. Even more compelling is the man who runs the place-a hazel-eyed ex-Marine who's as used to giving orders as Irene is to ignoring them. Luke Danner can see the terror beneath Irene Stenson's confident exterior-and he is intent on protecting her. But he is also driven by passions of his own, and together they will risk far more than local gossip to sort out what happened to Pamela Webb, and what really happened on that long-ago summer night. . . .
This was my first Jayne Ann Krentz, and I was quite pleased with it.  I found myself picking it up even when I only had a few minutes to read, which is a very good sign that it kept me interested.  I also found myself changing my mind about it while reading…  There is a cat that JAK lets out of the bag a little early in the book, and I originally thought that was a mistake.  However, that cat turns out to be a dog (you get my metaphor here, right?), so instead of a disappointing plot slip you find you've fallen victim to a very good red herring. Never would I have guessed the real reason for Pamela's death. And there's just the right amount of romance mixed in with the suspense as Luke and Irene find some stress relief in each other. The epilogue is a little too sappy for my tastes, but I guess she wanted to make sure everyone gets their happily ever after.
Page Count: 401 | Word count: 88,953
2008: Nineteen Minutes (Jodi Picoult)
2007: The 5th Horseman (James Patterson)
2006: The Lunatic Cafe (Laurell K. Hamilton)
2005: The Miserable Mill (Lemony Snicket)
Used in these Challenges: The Countdown Challenge; The Genre Challenge; 100+ Reading Challenge 2009; The 999 Challenge; A-Z 2009 Challenge; Read Your Own Books Challenge