2009: #123 – Olive Kitteridge (Elizabeth Strout)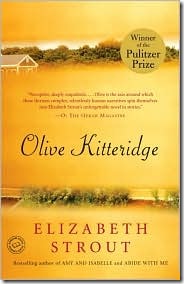 Book #123 was Olive Kitteridge by Elizabeth Strout.  The back of the book reads:
At times stern, at other times patient, at times perceptive, at other times in sad denial, Olive Kitteridge, a retired schoolteacher, deplores the changes in her little town of Crosby, Maine, and in the world at large, but she doesn't always recognize the changes in those around her: a lounge musician haunted by a past romance; a former student who has lost the will to live; Olive's own adult child, who feels tyrannized by her irrational sensitivities; and her husband, Henry, who finds his loyalty to his marriage both a blessing and a curse.

As the townspeople grapple with their problems, mild and dire, Olive is brought to a deeper understanding of herself and her life–sometimes painfully, but always with ruthless honesty. Olive Kitteridge offers profound insights into the human condition–its conflicts, its tragedies and joys, and the endurance it requires.
I loved this.  Being from Maine, I felt like it was very authentically "Maine", from the speech patterns and atmosphere to phrases like "Jeezum Crow", which I haven't heard myself in at least 13 years. Add to that Olive's occasional resemblance to my great-grandmother, and in a lot of ways reading this book was like visiting home.  It's not a particularly happy book, though there is a little bit of light at the end.  Sometimes Olive is the center of the story, sometimes she's a bit player, and sometimes she's just walking by, but she always makes a mark.  Olive's life is hard, and there's so much you really don't know about her, which you realize during her heart-wrenching visit to her son's home in New York. I think the thing that sticks with me the most is the tangible love between Olive and Henry, which is most apparent when she calls to talk to him at the nursing home and maintains her one-sided conversation.  Overall, it's just a beautifully constructed collection of stories.
Other reviews:
Booking Mama: Review: Olive Kitteridge
Review: Olive Kitteridge by Elizabeth Strout « I'm Booking It
my cozy book nook: Olive Kitteridge
Olive Kitteridge – Book Review – caribousmom
Book Club Girl: Olive Kitteridge
Audiobook length: 10hrs 35min | Approximate word count: 91,200
2007: The Wyndham Legacy (Catherine Coulter)
Used in these Challenges: Countdown Challenge 2010