2009: #126 – Last Rituals (Yrsa Sigurdardottir)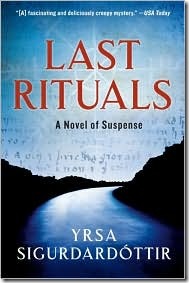 Book #126 was Last Rituals, the first book in Yrsa Sigurdardottir's Thora Gudmundsdottir series.  The back of the book reads:
At a university in Reykjavík, the body of a young German student is discovered, his eyes cut out and strange symbols carved into his chest. Police waste no time in making an arrest, but the victim's family isn't convinced that the right man is in custody. They ask Thóra Gudmundsdóttir, an attorney and single mother of two, to investigate. It isn't long before Thóra and her associate, Matthew Reich, uncover the deceased student's obsession with Iceland's grisly history of torture, execution, and witch hunts. But there are very contemporary horrors hidden in the long, cold shadow of dark traditions. And for two suddenly endangered investigators, nothing is quite what it seems . . . and no one can be trusted.
Thora Gudmundsdottir (have I mentioned how fascinated I am by the Icelandic patronymic naming system?) is very… normal.  She's a lawyer, but not the usual sort you find in crime novels.  She specializes in contractual law. When a German woman offers her more than her yearly salary to find out who really murdered her son, Thora finds she really can't refuse.  After all, she's a divorced mother of two whose car is in the shop, yet again.  Thora is matched up with Matthew Reich, who works for the family of the murdered young man. Thora and Matthew start out awkwardly, but soon grow into an easy companionship that pulls you through this story of witchcraft and rituals and bitterness and jealousy.  I doubt we'll see more of Matthew later in the series, but I wouldn't mind it. I liked the simplicity and realness of Thora, and I look forward to meeting her again.
Other reviews:
A Book A Week: Last Rituals by Yrsa Sigurdardottir
CRIME SCRAPS: LAST RITUALS: YRSA SIGURDARDOTTIR
read_warbler: Last Rituals
You Can Never Have Too Many Books: Last Rituals
Page count: 314 | Approximate word count: 109,900
2007: Envy (Sandra Brown)
Used in these Challenges: The 999 Challenge; Support Your Local Library Challenge 2009; Countdown Challenge 2010