2009: #128 – The Book Thief (Markus Zusak)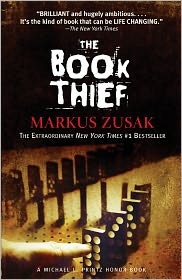 Book #128 was The Book Thief by Markus Zusak.  The back of the book reads:
It's just a small story really, about among other things: a girl, some words, an accordionist, some fanatical Germans, a Jewish fist-fighter, and quite a lot of thievery. . . .

Set during World War II in Germany, Markus Zusak's groundbreaking new novel is the story of Liesel Meminger, a foster girl living outside of Munich. Liesel scratches out a meager existence for herself by stealing when she encounters something she can't resist–books. With the help of her accordion-playing foster father, she learns to read and shares her stolen books with her neighbors during bombing raids as well as with the Jewish man hidden in her basement before he is marched to Dachau.

This is an unforgettable story about the ability of books to feed the soul.
This book is many things. "Haunting" may be an egregiously overused cliche, but it's difficult to find a better word to describe a book set in Germany during World War II that is narrated by none other than Death himself. People seem to either love or hate this book, and I think most of that has to do with the writing style.  Zusak does things that are generally not done.  Words are spoken about as objects that can slap you in the face or roll to a stop at your feet. Colors come to you through Death's eyes, so the skies may be blue or yellow or brown or white. And beneath it all is a rhythm that grabbed me and pulled me through Liesel's world.
"Summer came.
For the book thief, everything was going nicely.
For me, the sky was the color of Jews."
For me, an interesting aspect of this book is the view of the life of a young German living in poverty in Hitler's Germany. I have read a lot of Holocaust literature, but very little from the German point of view. And there is a good mixture of points of view here.  You have Germans from both sides of the line — those who would help the Jews, and those who would throw things at the helpers and scream "Jew-lover". Yet even the screamers have their softer sides.
Though the book is about Liesel, the book thief, one of the more interesting characters is Hans, her foster father. He is the one who makes it possible for Liesel to develop the love of books and words that eventually saves her life. He makes it possible for Liesel to love anyone at all, with his patience and compassion.  And he's the subject of one of my favorite descriptions in the entire book:
"Papa sat with me tonight.  He brought the accordion down and sat close to where Max used to sit.  I often look at his fingers and face when he plays. The accordion breathes.  There are lines on his cheeks.  They look drawn on, and for some reason, when I see them, I want to cry.  It is not for any sadness or pride.  I just like the way they move and change. Sometimes I think my papa is an accordion.  When he looks at me and smiles and breathes, I hear the notes."
One of the things that really made this book come alive for me is something that you won't get if you're listening to it on audio, or perhaps even reading the ebook (depending on the format).  At one point, Max, the Jewish man living in Liesel's basement, paints over the pages of his copy of Mein Kampf and writes and illustrates a story for Liesel. In the book you are treated to this story, complete with the faded words of Mein Kampf in the background.  It was something so minor, but so powerful for me.  Here's an example (illustration snagged from Amazon):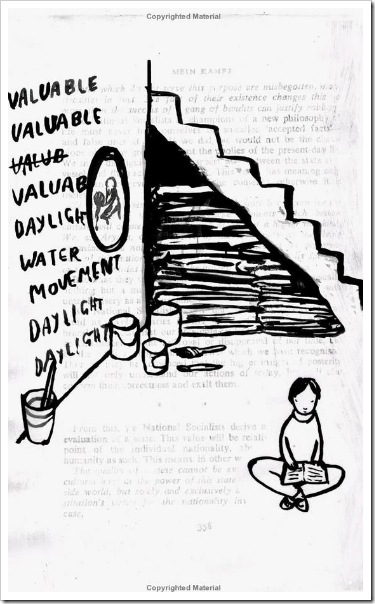 There are aspects to the book that are weak.  The whole plot line with the mayor's wife comes off as a little undeveloped, and when Liesel decides to write her own life story, it's rushed through and then forgotten in the rubble. There are a few unanswered questions that I really wish had been answered, but I guess it's those unanswered questions that keep us thinking about a book long after we've closed it.  Overall, I loved it.
Other reviews:
The Book Thief by Markus Zusak | Maw Books
The Book Thief — So Many Books
The Book Thief by Markus Zusak — In the Shadow of Mt. TBR
At Home With Books: The Book Thief by Markus Zusak – Review
books i done read: The Book Thief – Markus Zusak
Page count: 550 | Approximate word count: 110,000
2007: Dead Irish (John Lescroart)
Used in these Challenges: The 999 Challenge; A-Z Challenge 2009; Read Your Own Books Challenge; Countdown Challenge 2010;