2021: #5 – A Deadly Education (Naomi Novik)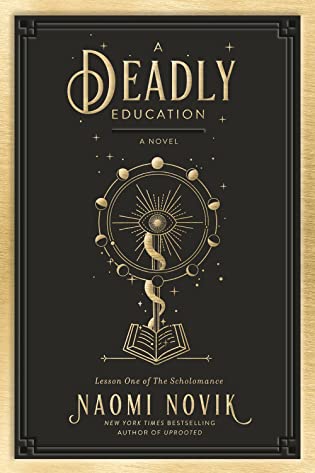 A Deadly Education
by
Naomi Novik
Published by
Del Rey Books
on September 29, 2020
Genres:
y/a fantasy
Pages:
336


Also by this author:
Uprooted
,
His Majesty's Dragon
Lesson One of the Scholomance: Learning has never been this deadly.

A Deadly Education is set at Scholomance, a school for the magically gifted where failure means certain death (for real) — until one girl, El, begins to unlock its many secrets.

There are no teachers, no holidays, and no friendships, save strategic ones. Survival is more important than any letter grade, for the school won't allow its students to leave until they graduate… or die! The rules are deceptively simple: Don't walk the halls alone. And beware of the monsters who lurk everywhere.

El is uniquely prepared for the school's dangers. She may be without allies, but she possesses a dark power strong enough to level mountains and wipe out millions. It would be easy enough for El to defeat the monsters that prowl the school. The problem? Her powerful dark magic might also kill all the other students.
A Deadly Education is a book about a high school for magical teens, but this definitely isn't Hogwarts.
The basics are: the school is supposed to protect the teens from the monsters who want to eat their delicious, still uncontrolled power; the school really sucks at protecting the teens from the monsters; every year on graduation day, the seniors are dumped into the infested Graduation Hall, and whoever makes it out alive has graduated; in order to graduate, the students spend their 4 years trying to make alliances with others who might help them get out alive.
The student we get to follow is Galadriel (El), a junior in her final few weeks of the school year. El's parents were also students at the school, where El was conceived and where El's father didn't make it out. El's mother is basically the Good Witch of the North — she is generous with her spells and does her best to help everyone who needs it. But magic requires balance, and her goodness means that El is born with the ability to destroy the world and everyone in it — if she's not careful. You would think that her powers would mean that she would be someone the other students would line up to ally with, but instead they just feel weird around her and generally avoid her.
Except for Orion, who is sort of this school's Harry Potter. A member of the New York Enclave and therefore able to access gobs of power, he spends a lot of his time running around the school, saving other students from the monsters. After he busts into El's room to save her (unnecessarily, from her perspective) from something that slithered under her door, she finds herself forming an unexpected friendship with him.
The book had a rough start for me, because there is so much world building shoved into the first chapter. But once I got past all that into the meat of the story, I really enjoyed it. It's a very unique world, and I found that intriguing. And the best part for me was that when I got to the end, the very last sentence was this delicious nugget of a teaser. Not a cliffhanger — the school year gets wrapped up nicely — but a tiny little taste of what's to come in the next book that made me say "ooooooh!" out loud. And I can't wait.
I read this for the following reading challenges:
Other reviews:
"I can see where some people would say it was a little dumpy and if I'm being honest I was close to DNF'ing in the first few chapters but I'm so glad I carried on. Novik is a rare talent who can give you enough information to completely immerse yourself in the world, past and present, whilst never loosing out on character interaction or growth." — Becky's Book Blog
"Truly, though, the reason A Deadly Education is so damn good is because of Novik's impeccable worldbuilding. I love the idea of an interdimensional magic school that is kind of falling apart at the seams, and intent on killing its students. Dark boarding schools for magic workers have been done (see Skin Hunger by Kathleen Duey, or The Witcher series from Andrzej Sapkowski, or Galen's training in Assassin's Apprentice), but Novik's take is the first time I've read a school that no one really remembers how it exists or works, and seems solely to exist in order to kill most of its attendees." — The Book Smugglers
"A Deadly Education, with its memorable characters, hilarious narration, and magical world is definitely up there in my favorite reads for this year. It's such a fun novel to read and I found myself snorting aloud at El's sarcasm and her relationship with Orion many a time. If you love strong characters that challenge the norms of their archetypes, magical worlds, and interesting social dynamics, this is the read for you." — Blogging with Dragons