2009: Challenges – ARC Reading Challenge 2010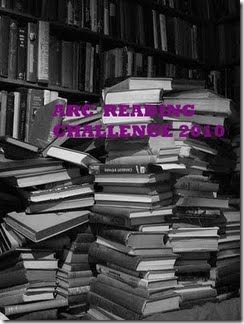 The ARC Reading Challenge 2010, hosted by So Many Precious Books, So Little Time, is about clearing out those ARC piles! Here are the guidelines:
To sign up, leave a direct link to your blog post about this challenge that includes your list from rule #2, using Mr. Linky.  Please leave a comment as well.
List all of the ARC's that you have to read right now. Then throughout the year, you must continue updating that list as you receive more ARC's. (This is important). You should also strike out the ones that you finish.
The Levels

Level Bronze:

All of us who have or will have less than 12 ARC's must read all of the ARC's we have. Note, that if you have 11 ARC's and then receive a 12th one you will be bumped up.
All of us who have or will have more than 12 ARC's must read and review 12.

Level Silver: Read 24 ARC's
Level Gold: Read 25 or more ARC's

You don't have to make a list of which ARC's you plan to read, but you can if you want.
Crossovers with other challenges are allowed and Audio-books are allowed as long as they are ARC's.
Read the books and review them on your blog. If you don't have a blog, you can post your review on sites like Powells, Amazon, Barnes and Noble, etc.
Please subscribe to the blog, as I will be doing a monthly post with Mr Linky.  Please add your reviews for each month in Mr Linky in the monthly post. For your Name, please use this format Name: (Your Name, Book Title and Author's Name) for example: (Teddy, Obsessive Reading by Helen Reader).  Please be sure to use the direct link to your review, not just to your blog. Then please leave a comment.
Enjoy!
Sign up is at So Many Precious Books, So Little Time! For my ARC list, I'm going to try embedding the Google spreadsheets I have my lists in so I only have to update in one place.  I hope it works! I'll be aiming for Level Gold.  I'll list my completed ARCs beneath the spreadsheets.
ARCs Completed: (last updated 12/28/10)
The First Rule – Robert Crais 
Forbidden Falls – Robyn Carr 
No One You Know – Michelle Richmond
Ivory Tower Cop – George Kirkham & Leonard Territo
Gossip of the Starlings – Nina de Gramont 
In Ecstasy – Kate McCaffrey
So Much For That – Lionel Shriver 
A Reliable Wife – Robert Goolrick
Horns – Joe Hill 
Voices – Arnaldur Indridason 
Chenxi and the Foreigner – Sally Rippin
Possessed – Kate Cann 
The Anniversary Man – R.J. Ellory 
Broken – Karin Slaughter
The Secret of Ka – Christopher Pike
Broken – Karin Fossum
Saving Max – Antoinette van Heugten
Without Mercy – Lisa Jackson
Tapestry of Love – Rosy Thornton
Lake Magic – Kimberly Fisk
Hollywood is Like High School With Money – Zoey Dean
Reckless – Andrew Gross