2009: #133 – Bloodsucking Fiends (Christopher Moore)
Sneaking one more in!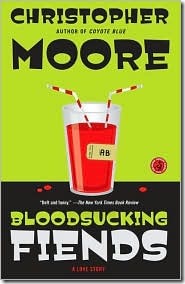 Book #133 was Bloodsucking Fiends by Christopher Moore.  The back of the book reads:
Jody never asked to become a vampire. But when she wakes up under an alley Dumpster with a badly burned arm, an aching back, superhuman strength, and a distinctly Nosferatuan thirst, she realizes the decision has been made for her.

Making the transition from the nine-to-five grind to an eternity of nocturnal prowlings is going to take some doing, however, and that's where C. Thomas Flood fits in. A would-be Kerouac from Incontinence, Indiana, Tommy (to his friends) is biding his time night-clerking and frozen-turkey bowling in a San Francisco Safeway. But all that changes when a beautiful undead redhead walks through the door…and proceeds to rock Tommy's life — and afterlife — in ways he never thought possible.
Now this is the Christopher Moore I initially raved about.  This is light and irreverent and a lot of fun. The main characters are likeable and the supporting cast strong.  The "Animals", Tommy's fellow night-shifters at the Safeway, seemed like precursors to the "Nerd Herd" on Chuck. Moore explores some of the little talked about side effects of becoming a vampire, like having to quit your job and figuring out what to do when your car gets towed and you can't retrieve it in the daytime. Then again, it's hard to beat the perks of perfect skin and superhuman strength.  This is the first book of a series, and we'll definitely be listening to You Suck sometime this year.
Other reviews:
Christopher Moore: Bloodsucking Fiends – Book Review
REVIEW: Bloodsucking Fiends: A Love Story by Christopher Moore
Ace and Hoser Blook: Bloodsucking Fiends
Audiobook length: 9hrs 18min | Approximate word count: 76,000
2007: Side Effects (Michael Palmer)
Used in these Challenges: none