2011: #49 – Maine (J. Courtney Sullivan)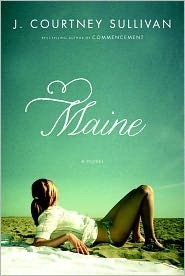 Book #49 was Maine by J. Courtney Sullivan. The back of the book reads:
In her best-selling debut, Commencement, J. Courtney Sullivan explored the complicated and contradictory landscape of female friendship. Now, in her highly anticipated second novel, Sullivan takes us into even richer territory, introducing four unforgettable women who have nothing in common but the fact that, like it or not, they're family.

For the Kellehers, Maine is a place where children run in packs, showers are taken outdoors, and old Irish songs are sung around a piano. Their beachfront property, won on a barroom bet after the war, sits on three acres of sand and pine nestled between stretches of rocky coast, with one tree bearing the initials "A.H." At the cottage, built by Kelleher hands, cocktail hour follows morning mass, nosy grandchildren snoop in drawers, and decades-old grudges simmer beneath the surface.

As three generations of Kelleher women descend on the property one summer, each brings her own hopes and fears. Maggie is thirty-two and pregnant, waiting for the perfect moment to tell her imperfect boyfriend the news; Ann Marie, a Kelleher by marriage, is channeling her domestic frustration into a dollhouse obsession and an ill-advised crush; Kathleen, the black sheep, never wanted to set foot in the cottage again; and Alice, the matriarch at the center of it all, would trade every floorboard for a chance to undo the events of one night, long ago.

By turns wickedly funny and achingly sad, Maine unveils the sibling rivalry, alcoholism, social climbing, and Catholic guilt at the center of one family, along with the abiding, often irrational love that keeps them coming back, every summer, to Maine and to each other.
When I was offered an ARC of this book through Amazon, I jumped on it immediately. As I've mentioned in the last couple of reviews, I grew up in Maine, and I couldn't think of a better book to take with me on my summer vacation.
I couldn't have been more right.
This book touches on a lot of subjects: family when it works, and when it doesn't; faith; relationships; guilt; entitlement; the inability to let go. It's all explored through the eyes of four women in the Kelleher family – Alice, the matriarch; Kathleen, the oldest daughter; Ann Marie, the dutiful daughter-in-law; and Maggie, the grand-daughter contemplating a major life change.
Not all of these women are likeable. In fact, sometimes you just want to grab them and shake some sense into them. They all have their issues, their blind spots, and their history, and they've learned the family dance, where you pretend things are rosy and fine and then go about your real business. Unless you're Alice; Alice never pretends things are rosy and fine.
Alice is really from Massachusetts, but in many ways she is the quintessential no-nonsense old lady from Maine. She takes no shit from anyone, and is staunch in her beliefs.
It did take most of the book before all of the women are in Maine together, but I was so absorbed in their stories, I didn't care.
I loved what this book had to say about the difficulty of relationships between women in a family. It's not always a pretty picture, but you do what you have to do. There was some strife in my extended family during the time I was reading this, and instead of it turning me off the book, the book helped me put things in perspective.
This has been my favorite book of the summer. I was so pleased with it, I immediately passed it on to my own mother. I hope she enjoys it too!
This book was a review copy.
Other reviews:
REVIEW: Maine by J. Courtney Sullivan | Book Addict Katie
Biblioholic Review: Maine « Boston Book Bums
Beth Fish Reads: Review: Maine by J. Courtney Sullivan
The Book Frog: Maine by J. Courtney Sullivan
Review: Maine – J. Courtney Sullivan « Reeder Reads
Page count: 400 ('11 total: 12,717) | Approximate word count: 120,000 ('11 total: 4,731,914)
2010: The Beach House (Jane Green)
2009: Dead Girls Are Easy (Terri Garey)
2008: The Whole Truth (David Baldacci)
2007: Holiday in Death (J.D. Robb)
2006: All That Remains (Patricia Cornwell)
2005: I'll Be Seeing You (Mary Higgins Clark)
Used in these Challenges: ARC Reading Challenge; New Author Challenge 2011; Outdo Yourself Reading Challenge 2011;