2010: #41 – So Much For That (Lionel Shriver)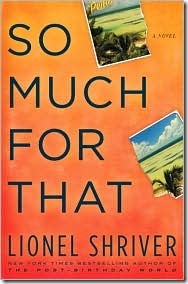 Book #41 was So Much For That by Lionel Shriver.  The back of the book reads:
From the acclaimed author of the New York Times bestseller The Post-Birthday World comes a searing, ruthlessly honest new novel about a marriage both stressed and strengthened by the demands of serious illness.

Shep Knacker has long saved for "The Afterlife": an idyllic retreat to the Third World where his nest egg can last forever. Traffic jams on the Brooklyn-Queens Expressway will be replaced with "talking, thinking, seeing, and being"—and enough sleep. When he sells his home repair business for a cool million dollars, his dream finally seems within reach. Yet Glynis, his wife of twenty-six years, has concocted endless excuses why it's never the right time to go. Weary of working as a peon for the jerk who bought his company, Shep announces he's leaving for a Tanzanian island, with or without her.

Just returned from a doctor's appointment, Glynis has some news of her own: Shep can't go anywhere because she desperately needs his health insurance. But their policy only partially covers the staggering bills for her treatments, and Shep's nest egg for The Afterlife soon cracks under the strain.

Enriched with three medical subplots that also explore the human costs of American health care, So Much for That follows the profound transformation of a marriage, for which grave illness proves an unexpected opportunity for tenderness, renewed intimacy, and dry humor. In defiance of her dark subject matter, Shriver writes a page-turner that presses the question: How much is one life worth?
Shep is a man with a plan.  His investment account has finally rebounded, and he's going to quit his crappy job and retire to Africa, where he can do what he want and his dollar will last.  His wife, Glynnis, probably doesn't want to go, but he's ready to take that chance and move on without her. Unfortunately, she has news of her own — she has cancer.  Mesothelioma, to be exact. A particularly virulent cancer that his job as a handyman could have contributed to. So he puts his dream of his "After-Life" away, and keeps his job so she can use his health insurance, in the process becoming more selfless than he ever believed he could be.
Healthcare and who pays for it is a large part of this story, but it's also about givers and takers, and friendships, and love. Besides Glynnis's illness, we also learn about Shep's best friend Jackson, who has a child, Flicka, with a debilitating genetic disease and Shep's father, whose fall down the stairs results in him living in a nursing home.  Jackson also has a bit of a healthcare crisis of his own, though it is largely of his own doing. Parts of the book are hard to read, especially as Glynnis's sickness worsens.  But it's not all bad. There are some especially sweet moments, like when Glynnis and Shep's son would come home from school every day to lay on his mother's bed with her and hold her hand while they watch TV, or when Glynnis and Flicka commiserate, the only two people in their lives who know how and what they feel.  Shriver likes to surprise us, and this book is no exception.  Her surprise marks a turning point.  It's like the negative force of the novel dissipates enough to give us a happy ending, of sorts.  In the end, Shep is a man we can be proud of. The book does get a little bit preachy at times, but I think it's possible to put your personal politics aside and enjoy the tale.
Other reviews:
'So Much For That' by Lionel Shriver – Reading Matters
Page count: 448 | Approximate word count: 134,400
2009: Drop Shot (Harlan Coben)
2008: Creation in Death (J.D. Robb)
2007: Final Jeopardy (Linda Fairstein)
2006: All Through the Night (Mary Higgins Clark)
2005: The Count and the Confession (John Taylor)
Used in these Challenges: Countdown Challenge 2010; ARC Reading Challenge 2010; 2010 100+ Reading Challenge; 2010 Pub Challenge; 2nd Reading Challenge; Pages Read Challenge Season 2; The TwentyTen Challenge;