2009: #23 – An Ice Cold Grave (Charlaine Harris)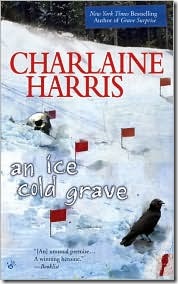 Book #23 was An Ice Cold Grave, the third book in Charlaine Harris's Harper Connelly series.  The back of the book reads:
Harper Connelly heads to Doraville, North Carolina, to find a missing boy—one of several teenage boys who have disappeared over the last five years. And all of them are calling for Harper. She finds them, buried in the frozen ground. Soon Harper will learn more than she cared to about the dark mysteries and long-hidden secrets of Doraville—knowledge of the dead that makes her next in line to end up in an ice-cold grave.
I find Harper and Tolliver to be rather interesting protagonists — two people just trying to make a living from an unusual gift and keep to themselves, but who keep getting pulled into other people's affairs.  In this case, the discovery of a serial killer, an attack on Harper, and several other events all conspire to keep the two in Doraville much longer than they'd like. I've decided that this has been my favorite book of the three, maybe because we actually get a taste of a happy Harper in this one. Granted, her happiness comes from a realization of shared feelings between herself and her "brother", but I had been told to expect it.  I was afraid I might feel icky about their relationship, which appears incestuous from the outside, but by the time the book got to it I was prepared.  Harper had already stopped thinking about him as her brother, so as a reader, I did too. I'm sad that this series hasn't been continued yet, because I'm really interested to see how things continue for Harper and Tolliver.
This is the first book in the series I listened to instead of read, so I wonder if the audio production is what made me enjoy it more?  That is an interesting rumination for another time.
Audiobook length: 8hrs 42min | Approximate word count: 86,400
2008: Whitewash (Alex Kava)
2007: Op-Center (Tom Clancy)
2006: The Kite Runner (Khaled Hosseini)
2005: Blue Gold (Clive Cussler)
Used in these Challenges: 100+ Reading Challenge 2009; 2009 Audiobook Challenge; The 999 Challenge; A-Z 2009 Challenge;