2009: #27 – Vampire Academy (Richelle Mead)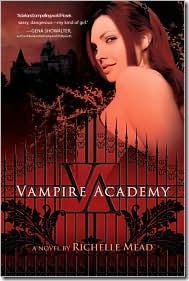 Book #27 was Vampire Academy, the first book in Richelle Mead's Vampire Academy series.  The back of the book reads:
St. Vladimir's Academy isn't just any boarding school—it's a hidden place where vampires are educated in the ways of magic and half-human teens train to protect them. Rose Hathaway is a Dhampir, a bodyguard for her best friend Lissa, a Moroi Vampire Princess. They've been on the run, but now they're being dragged back to St. Vladimir's—the very place where they're most in danger. . . .

Rose and Lissa become enmeshed in forbidden romance, the Academy's ruthless social scene, and unspeakable nighttime rituals. But they must be careful lest the Strigoi—the world's fiercest and most dangerous vampires—make Lissa one of them forever.
I enjoyed this a lot more than I expected to! The action starts right from the beginning, as Rose and Lissa are captured and brought back to St. Vladimir's, the school they've run away from.  The vampire myth here has been twisted around, with there being more than one "flavor";  the Strigoi are probably closest to the traditional vampire. I liked the changes and the extra hierarchy it brought to the vampire society. This is a YA book, so there are a lot of teen-related issues — bullies, gossip, depression, dating, etc — and a fair amount of angst, but I thought it was all done rather well. And I had absolutely no clue who the bad guy was going to be before it was revealed. All in all, I will definitely continue this series.
Audiobook length: 8hrs 55min | Approximate word count: 67,200
2008: Ice Trap (Kitty Sewell)
2007: The Time Traveler's Wife (Audrey Niffenegger)
2006: Betrayal in Death (J.D. Robb)
2005: Open Season (Linda Howard)
Used in these Challenges: 100+ Reading Challenge 2009; 1st in a Series Challenge; 2009 Audiobook Challenge; The 999 Challenge; A-Z Challenge 2009