2009: #26 – Soul Catcher (Michael C. White)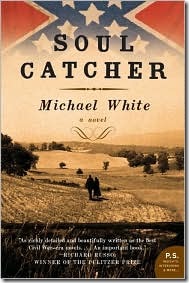 Book #26 was Soul Catcher by Michael C. White.  The back of the book reads:
Augustus Cain is a damaged man haunted by a terrible skill: the ability to track people who don't want to be found. Rosetta is a runaway slave who bears the scars, inside and out, of a life of servitude to a cruel and unforgiving master. Her flight is fueled by a passion and determination only a mother could feel, and she would rather die than let anyone drag her back to hell. In a dark, volatile time prior to the Civil War, fate has bound the hunted and hunter on a remarkable odyssey from Virginia to Boston and back again—an extraordinary test of character and will, mercy and compassion, that will change them both forever.
I love a good Civil-War-era/1800s-in-the-U.S. historical fiction novel. And this *was* a good one. Cain is a man who's more than a little bit lost.  He's basically sleep-walking through life, drunk on either whiskey, laudanum, or both, and gambling for money to live. Except he's not always a great gambler, and now he's gotten himself into a debt he can't run away from.  When the man he owes money to wants him to use his tracking skills to bring home his runaway slave, Rosetta, Cain doesn't really have a choice. Soul Catcher is the story of that journey.
Cain is forced to travel with a group of men that you would expect to be slave-catchers… generally either apathetic or downright cruel and sadistic. There is a lot of both the expected and unexpected here, and though I mostly guessed the ending and the decision Cain would make about his life, I never would have guessed the final twist. Some may question how realistic Cain and Rosetta are in their actions and interactions, but I can believe it all the same.
Page count: 415 | Approximate word count: 124,500
2008: Twilight (Stephenie Meyer)
2007: Full House (Janet Evanovich)
2006: Judgement in Death (J.D. Robb)
2005: The Sigma Protocol (Robert Ludlum)
Used in these Challenges: 9 for 09 Challenge; 100+ Reading Challenge 2009; The 999 Challenge; Read Your Own Books Challenge;