2017: #16 – Be Good Be Real Be Crazy (Chelsey Philpot)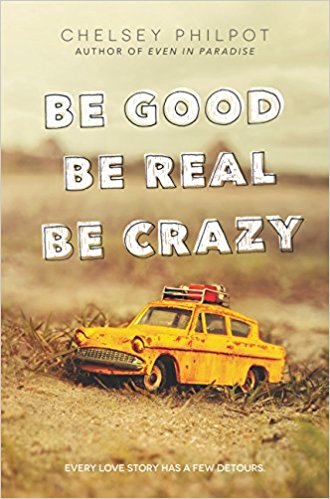 Be Good Be Real Be Crazy
by
Chelsey Philpot
Published by
HarperTeen
on October 11th 2016
Genres:
y/a romance
,
young adult
Pages:
272


Every love story has a few detours.

Homer has never met anyone like Mia. She's the mystery girl with the fruit-punch-red hair. She sees stories in the clouds. She asks questions he would never think to ask.

And she's leaving.

Now, with their time together slipping through his fingers, Homer volunteers to drive her all the way up the East Coast, determined to convince her to stay with him. Homer knows this might be his last chance to tell Mia he loves her. Unfortunately, his younger brother, Einstein—who is certain the world is about to end—is coming along. And the only car they have is painted a hideous shade of yellow and smells like a combination of rotten fruit and burned coffee.

It's going to be a long road trip.
This was a cute teen romance that is, unusually, from the boy's perspective. Homer has fallen in love with Mia, the unusual girl who is living in a boat in the parking lot of his fathers' tourist gift shop. But Mia has bigger problems than where she's living — she's pregnant and has no family. The only plan that makes sense to her is to head north to Massachusetts and find her favorite foster sister, who said she'd always give her a place to stay. But Homer can't let her make the trip alone, and after some cajoling his fathers agree to let him drive her — as long as he takes along his little brother, Einstein. Einstein has a detour in mind after they drop Mia off — he wants to ultimately end up at a conference about the end of the world.
And so begins a wacky, wild road trip, where they meet some unusual characters and things don't go exactly as planned. It's a fun, sad story, but it's definitely not realistic. The whole thing has almost a fairy tale feel to it, which is added to by the addition of "parables" throughout the story, which usually explain some bit of a character's or place's history. I'm not sure exactly how it would be categorized — it's definitely not fantasy, and I don't think it's quite magical realism either. There's no magic, just things that wouldn't really happen.
Regardless, I thought it was a cute story even if things don't end quite how anyone expected.
Other reviews:
"Second thing I love, and the one I love the most: unlike most road-trips I have read, this one takes place in the Winter. There are thick clothes involved, snow… I love Winter and road-trips books, so having them altogether in a beautifully written novel was great to experience." — Marta's Bookshelf
"It is overall a fun, quirky read that I predict many will enjoy, I just wished I had gotten a little more from it to push it from an okay read to a fantastic one." — A Glass of Wine
"Overall, BE GOOD BE REAL BE CRAZY was a fascinating story that I highly recommend to those interested in romance comedies — if you like any of John Green's books, this book is definitely for you." — Teen Reads