2009: #28 – In the Woods (Tana French)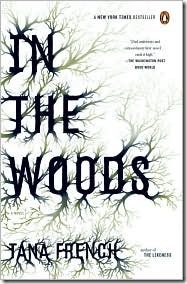 Book #28 was In the Woods by Tana French.  The back of the book reads:
When he was twelve years old, Adam Ryan went playing in the woods one sunny day with his two best friends. He never saw them again. Their bodies were never found, and Adam himself was discovered with his back pressed against an oak tree and his shoes filled with blood. He had no memory of what had happened.

Twenty years later Adam — now using his middle name of Rob — is a detective with the Dublin police force. His colleagues don't know about his past. He works as a team with Cassie Maddox, a smart, tough cookie; they are best friends as well as partners. When the body of a young girl is found at the site of an archaeological dig, Rob and Cassie get the case. And when they reach the crime scene, Rob realizes it is the exact site of his childhood trauma. They also find a hairclip that he recognizes as having belonged to his friend. Could there be a connection between that old, unsolved crime and this? Knowing that he would be thrown off the case if his past were revealed, Rob takes a fateful decision to keep quiet. Rob and Cassie are investigating the murder of Katy Devlin, but they both hope that they might also solve the twenty-year-old mystery of the woods.
Wow.  I have so much I want to say about this book, but I don't want to give anything away! I love the narration in this novel.  Rob (Adam) is telling you his story, but one of the first things he tells you is that he is a liar.  So can you believe everything he says and hears?  When Rob and Cassie are handed Katy Devlin's case, Rob is brought face to face with the childhood he can't remember. As the story and the case progresses, you see the stress of his hidden identity and the events he can't remember weighing down on him.  You can easily find yourself lost in Rob's downward spiral. The little subtle bits of foreshadowing work incredibly well, making you wonder constantly. I really loved the relationship between Rob and Cassie, even if he does screw it up in the end. I have a friend like that that I'm 100% completely comfortable with, so I could relate to their ease with each other. Finally, the writing here is just beautiful… lyrical and haunting… and the ending leaves you wanting more.
There was a time when I believed I was the redeemed one, the boy borne safely home on the ebb of whatever freak tide carried Peter and Jamie away. Not any more. In ways too dark and crucial to be called metaphorical, I never left that wood.
I can't recommend this book enough.
Page count: 464 | Approximate word count: 139,200
2008: Midnight Bayou (Nora Roberts)
2007: The Black Echo (Michael Connelly)
2006: Purity in Death (J.D. Robb)
2005: Wicked (Gregory Maguire)
Used in these Challenges: Book Awards II Challenge; 100+ Reading Challenge 2009; 1st in a Series Challenge; 2009 eBook Challenge; The 999 Challenge; A-Z Challenge 2009;