2009: #3 – Lord John and the Brotherhood of the Blade (Diana Gabaldon)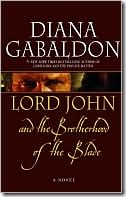 Book #3 was Lord John and the Brotherhood of the Blade, the second book in Diana Gabaldon's Lord John Grey trilogy. The back of the book reads:
In her much-anticipated new novel, the New York Times bestselling author of the Outlander saga brings back one of her most compelling characters: Lord John Grey—soldier, gentleman, and no mean hand with a blade. Here Diana Gabaldon brilliantly weaves together the strands of Lord John's secret and public lives—a shattering family mystery, a love affair with potentially disastrous consequences, and a war that stretches from the Old World to the New. . . .
In 1758, in the heart of the Seven Years' War, Britain fights by the side of Prussia in the Rhineland. For Lord John and his titled brother Hal, the battlefield will be a welcome respite from the torturous mystery that burns poisonously in their family's history. Seventeen years earlier, Lord John's late father, the Duke of Pardloe, was found dead, a pistol in his hand and accusations of his role as a Jacobite agent staining forever a family's honor.
Now unlaid ghosts from the past are stirring. Lord John's brother has mysteriously received a page of their late father's missing diary. Someone is taunting the Grey family with secrets from the grave, but Hal, with secrets of his own, refuses to pursue the matter and orders his brother to do likewise. Frustrated, John turns to a man who has been both his prisoner and his confessor: the Scottish Jacobite James Fraser.
Fraser can tell many secrets—and withhold many others. But war, a forbidden affair, and Fraser's own secrets will complicate Lord John's quest. Until James Fraser yields the missing piece of an astounding puzzle—and Lord John, caught between his courage and his conscience, must decide whether his family's honor is worth his life.
I really enjoyed this second book in the Lord John Grey trilogy. I felt it was much more fleshed out than the first book, Lord John and the Private Matter (which, funny enough, was the 3rd book I read last year). There is much joy and much pain in Lord John's life during this book, and my only complaint is that the main mystery of the book — who killed Lord John's father — often gets lost between his relationship with new step-brother Percy (and its consequences) and his involvement in the war. There were long stretches of the book where I completely forgot what the main point was. Lord John is himself an interesting character, noble and flawed both. I enjoyed his interactions with Jamie Fraser (which helped me place this book in the Outlander timeline), as well as his affair with Percy, even if that did end poorly. Not only does Gabaldon manage to tell quite an interesting tale, but she also explores what it's like to live as a homosexual man in Georgian-era England, where such behavior is often punishable by death. As with the last book, if you are squeamish about homosexual relations, this trilogy is not for you!
Audiobook Length: 15hrs 31m | Approximate word count: 165,980
2008 – Lord John and the Private Matter (Diana Gabaldon)
2007 – No Second Chance (Harlan Coben)
2006 – Lost Innocents (Patricia MacDonald)
2005 – 3rd Degree (James Patterson)
Used in these Challenges: The Genre Challenge; 9 for 09 Challenge; 100+ Reading Challenge 2009; 2009 Audiobook Challenge; The 999 Challenge; A-Z 2009 Challenge