2009: A Giveaway! – The Chemist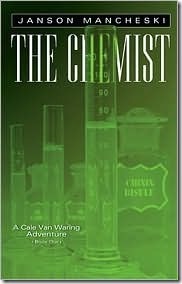 I was very kindly provided with a second copy of Janson Mancheski's The Chemist, and now I would like to pass it on to you! The back of the book reads:
Last spring, three girls went missing. Nothing linked the cases except a frustrating lack of clues or motive. Then, one of them turned up headless in Lake Michigan pumped full of date rape drugs. Detective Cale Van Waring doesn't have proof, but he knows the girls are being abducted. Now, spring has returned, and so has Van Waring's invisible kidnapper. Another girl is missing, but this time Van Waring finds a spotty trail. With his boss on his back and his girlfriend threatening to leave unless he commits, Van Waring struggles to put the pieces together before another girl ends up missing–or dead.
You can read my review here.  I really enjoyed this novel, and I think you will too!
There are 3 ways to enter!
Leave me a comment.  Please make sure you leave a valid email address.
Publicize the contest in some other way (Twitter, StumbleUpon, etc).
If you're subscribing or publicizing, just let me know in your comment!
Each person is allowed a maximum of 4 entries. Entries will be accepted until midnight on Tuesday, March 24th, and I will draw a winner on Wednesday, March 25th. And it's open to everyone worldwide!
Good luck!