2009: #32 – For a Few Demons More (Kim Harrison)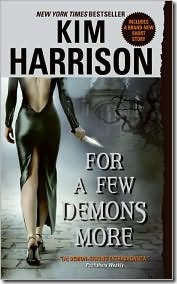 Book #32 was For a Few Demons More, the fifth book in Kim Harrison's Rachel Morgan series. The back of the book reads:
Despite dating one vampire and living with another, Rachel Morgan has always managed to stay just ahead of trouble . . . until now.

A fiendish serial killer stalks the Hollows, and no one living in or around Cincinnati—human, inhuman, or undead—is safe.

An ancient artifact may be the key to stopping the murderer—a mysterious relic that is now in the hands of Rachel Morgan, fearless independent bounty hunter and reckless witch. But revealing it could ignite a battle to the death among the vast and varied local supernatural races.

Rachel's been lucky so far. But even she can't hide from catastrophe forever.
Unfortunately, I ruined part of this for myself by reading about the next book on Amazon.  So if you don't want to know what happens with Rachel and Kisten, don't do that! Overall, this was a solid entry in a series I love, though I don't think it was quite as good as the last one. There are a lot of surprises here, the first one coming immediately when Rachel wakes up in the process of being possessed by a demon… and it isn't Al for once. The characters continue to show growth, but I have to say that I was really disappointed in Trent.  I was just getting used to thinking about him being a basically decent guy under the whole "running a drug cartel" thing when it turns out he's much, much worse than we thought. When this book ends, there's a fair amount of stuff that remains to be explained.  There's been a big change in Rachel's world, and I can't wait to see how things shake out.
Page count: 560 | Approximate word count: 181,328
2008: Exit Music (Ian Rankin)
2007: Dark Angels (Karleen Koen)
2006: Survivor in Death (J.D. Robb)
2005: We'll Meet Again (Mary Higgins Clark)
Used in these Challenges: 100+ Reading Challenge 2009; 2009 eBook Challenge; The 999 Challenge;