2009: #53 – Tripwire (Lee Child)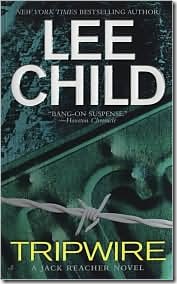 Book #53 was Tripwire, the third book in Lee Child's Jack Reacher series.  The back of the book reads:
Reacher's anonymity in Florida is shattered by an investigator who's come looking for him. But hours after his arrival, the stranger is murdered. Retracing the PI's trail back to New York, Reacher's compelled to find out who was looking for him and why. He never expected the reasons to be so personal-and twisted.
I think this was the best book in the series so far.  Reacher finds himself challenged not only by a mystery, but by some changes in his personal life.  The mystery is, what happened to Victor Hobie?  Did he die in Vietnam?  If not, why hasn't he contacted his bereaved family? If so, who's using his name to terrorize businessmen in New York? Along the way, Reacher encounters a blast from the past that may make him change his drifting ways.  But if he's not a drifter, will he be the same Jack Reacher?  Lots of great suspense here, and an ending that leaves you wondering what's next for our mysterious hero.
Page count: 592 | Word count: 146,625
2008: Murder on the Links (Agatha Christie)
2007: Mimosa Grove (Dinah McCall)
2006: Biting the Moon (Martha Grimes)
2005: High Five (Janet Evanovich)
Used in these Challenges: 100+ Reading Challenge 2009; The 999 Challenge; Read Your Own Books Challenge;