2009: #33 – The Kiss Murder (Mehmet Murat Somer)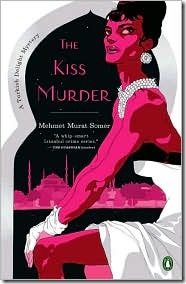 Book #33 was The Kiss Murder, the second Hop-Çiki-Yaya (or Turkish Delight) mystery by Mehmet Murat Somer.  The back of the book reads:
As night falls over Istanbul, our heroine, a fabulous drag queen who is a dead ringer for Audrey Hepburn, heads out to her nightclub, one of the most popular hangouts in the city's underworld.  Impossibly chic and charming, she's ready for anything, and when one of her employees ends up dead as the result of blackmail, she'll need to use all of her wit and quick thinking–as well as her Thai kickboxing skills–to find the killers before they find her.

Outrageous, hilarious, and page-turning, Mehmet Murat Somer's unique series is set to take the mystery world by storm.
The last thing I would expect a book set in Istanbul to feature is a transvestite subculture, but that's exactly what you have in this Hop-Çiki-Yaya series. The nameless main character is quite interesting… he knows exactly what he is, and isn't apologetic about it.  He plays up his masculine and feminine sides equally well. The story here isn't about the murder as much as it's about the blackmail, and the main character's drive to find out what is going on, mostly for his own curiosity. I didn't love the story, but I did enjoy it and would probably read more.  I found the writing to be somewhat stilted and choppy, but I don't know if that's how the writing is or if it's an aftereffect of translation.
Page count: 245 | Approximate word count: 67,375
2008: Those Who Trespass (Bill O'Reilly)
2007: The Monkey's Raincoat (Robert Crais)
2006: Origin in Death (J.D. Robb)
2005: I is for Innocent (Sue Grafton)
Used in these Challenges: Spring Reading Thing 2009; 100+ Reading Challenge 2009; 2009 ARC Reading Challenge; The 999 Challenge; A-Z 2009 Challenge;