2011: #62 – Shop Till You Drop (Elaine Viets)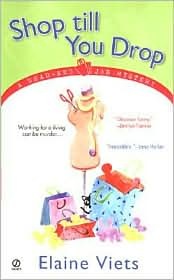 Book #62 was Shop Till You Drop, the first book in Elaine Viets's Dead-End Job series. The back of the book reads:
Once on the fast track to success, Helen Hawthorne is now going nowhere fast. She traded in her chic life for a shabby one. And now she's on the run, jumping from city to city and dead-end job to dead-end job, trying to stay one step ahead of her past…

After two weeks as the new salesclerk at Juliana's, Fort Lauderdale's ultra-exclusive clothing boutique, Helen still feels out of fashion. And since the only crime likely to be committed around here is being old-or worse, looking old-Helen figures she's safe. Until she discovers the manager has been embezzling money and selling designer drugs along with the designer clothes. Add murder to the mix-and Helen's dead-end job is downright deadly.
This was a new series for me. I've been trying to make an effort to read more cozy mysteries, since that's sort of what I'm trying to write. And this was a winner!
Helen is hiding out in Fort Lauderdale for reasons that aren't especially clear for a while. Needing to stay off the radar, she's stuck with whatever job she can find that will pay her under the table, and that has left her at Juliana's, an exclusive clothing boutique where the clothes are tiny and expensive and the customers are more plastic than flesh.
But things at the store aren't quite what they seem, and when Helen's coworker disappears and the police start nosing around, Helen knows she needs to do something or her cover will be blown.
I enjoyed Helen and her supporting cast at the apartment complex where she lives. The author gives you a good taste of the different sides of Florida, from South Beach to snowbirds. I'll definitely be continuing this series, and I look forward to seeing what Helen will do next!
Other reviews:
Shop Till You Drop | What Were You Thinking? Book Reviews
not enough books: Shop Till You Drop by Elaine Viets
Page count: 288 ('11 total: 17,150) | Word count: 81,763 ('11 total: 6,085,392)
2010: Undertow (Sydney Bauer)
2009: Doomed Queens (Kris Waldherr)
2008: The Plot Against America (Philip Roth)
2007: The Harlequin (Laurell K. Hamilton)
2006: M is for Malice (Sue Grafton)
2005: Blood Test (Jonathan Kellerman)