2020: #21 – Tangled (Emma Chase)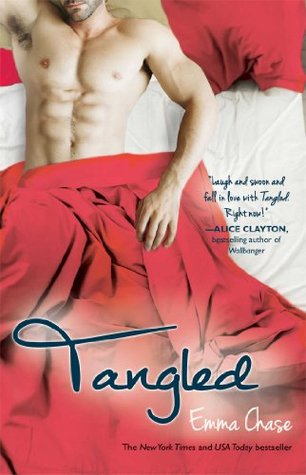 Tangled
by
Emma Chase
Series:
Tangled #01
Published by
Gallery Books
on January 14, 2014
Genres:
contemporary romance
Pages:
232


When rich, handsome, and arrogant meets beautiful, brilliant, and ambitious, things are bound to get tangled

Drew Evans makes multimillion-dollar business deals and seduces New York's most beautiful women with just a smile. So why has he been shuttered in his apartment for seven days, miserable and depressed? He'll tell you he has the flu, but we all know that's not really true.

When Katherine Brooks is hired as the new associate at Drew's father's investment banking firm, every aspect of the dashing playboy's life is thrown into a tailspin. The professional competition she brings is unnerving, his attraction to her is distracting, his failure to entice her into his bed is exasperating.

How can one woman turn a smooth-talking player into a broken, desperate man? By making the one thing he never wanted in life the only thing he can't live without.
I'm sorry, but Drew is completely unlikable. He's basically everything you think of when you call a man a pig. You go into it really wanting to believe Kate can change him, but is he really capable of changing?
There was so much problematic stuff here. Drew doesn't really change as much as he decides Kate is the thing he wants and he's going to do everything he can to get her, even if it means being a pest and redecorating his apartment and maybe not having sex with every pretty girl at the club. But his process of getting her to agree to another date with him is basically just harassing her in increasingly embarrassing ways until she agrees just to get him to stop. Which is a big red flag in most normal circumstances, but when you're COWORKERS? Talk about an HR nightmare. There were also some transphobic and homophobic comments in the book that I didn't appreciate, even if the book was written in 2013.
I'm giving it 2 stars instead of 1 only because it was still entertaining in a really mindless way, if you didn't get yourself attached to the characters. I thought maybe I'd give the next book in the series a shot. Then I started it and saw that Drew had returned to his old ways and I couldn't go through it all again.
I read this for the PopSugar Reading Challenge this year — this book fulfilled the "book with the same title as a movie or TV show but is unrelated to it" prompt.
Other reviews:
"The book wasn't always funny per say, but the whole mood was light hearted. The sex was hot, the characters were lovable, the writing was witty and it had a happy ending" – Aestas Book Blog
"I would very much recommend this as a lighthearted read that will have you laughing almost the entire time!" – Star-Crossed Book Blog
"It is so well written, clever, and charming despite (and perhaps even because of) his derogatory wit. He's real. He's honest. And maybe eventually… he becomes a TRUE catch. I will neither confirm nor deny this. You have to find that out for yourself (and you'll have fun doing it!). " – Maryse's Book Blog