2009: #41 – Drop Shot (Harlan Coben)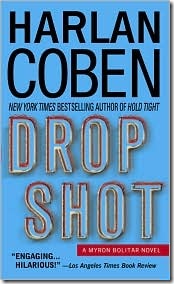 Book #41 was Drop Shot, the second book in Harlan Coben's Myron Bolitar series.  The back of the book reads:
Valerie Simpson is a young female tennis star with a troubled past who's now on the verge of a comeback and wants Myron as her agent. Myron, who's also got the hottest young male tennis star, Duane Richwood, primed to take his first grand slam tournament, couldn't be happier. That is, until Valerie is murdered in broad daylight at the U.S. Open and Myron's number one client becomes the number one suspect.

Clearing Duane's name should be easy enough. Duane was playing in a match at the time of Valerie's death. But why is his phone number in Valerie's black book when he claims only to have known her in passing? Why was she calling him from a phone booth on the street? The police stop caring once they pin the murder on a man known for having stalked Valerie and seen talking to her moments before the murder. But Myron isn't satisfied. It seems too clean for him.

Myron pries a bit and finds himself prying open the past where six years before, Valerie's fiancee, the son of a senator, was brutally murdered by a juvenile delinquent and a straight-A student was subsequently gunned down on the street in retaliation, his death squandered in bureaucratic files. And everyone from the Senator to the mob want Myron to stop digging.

The truth beneath the truth is not only dangerous, it's deadly. And Myron may be the next victim.

In novels that crackle with wit and suspense, Edgar Award winner Harlan Coben has created one of the most fascinating and complex heroes in suspense fiction–Myron Bolitar–a hotheaded, tenderhearted sports agent who grows more and more engaging and unpredictable with each page-turning appearance.
Myron Bolitar is a pretty interesting guy — a sarcastic ex-athlete-law-school-grad-turned-sports-agent who used to work with the government, has a sociopathic best friend (who I always picture as the young James Spader playing Steff in Pretty in Pink), and now lives in his parents' basement and plays basketball with the neighborhood kids (when his on-again/off-again girlfriend is out of town). Who comes up with this stuff? Apparently, Harlan Coben does.  This series has a lighter edge that his stand-alone novels do not, and Coben does his usual great job of weaving an interesting tale.  I did have a key piece of the mystery figured out about 3/4 of the way through, but the final whodunnit was definitely a surprise. This is a series I'll stick with.
Audiobook Length: 8 hrs | Word count: 75,937
2008: Creation in Death (J.D. Robb)
2007: Final Jeopardy (Linda Fairstein)
2006: All Through the Night (Mary Higgins Clark)
2005: The Count and the Confession (John Taylor)
Used in these Challenges: 100+ Reading Challenge 2009; The 999 Challenge; A-Z 2009 Challenge; Read Your Own Books Challenge;