2009: #93 – Evil at Heart (Chelsea Cain)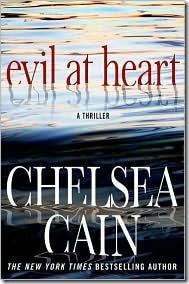 Book #93 was Evil at Heart, the third book in Chelsea Cain's Archie & Gretchen series.  The back of the book reads:
Chelsea Cain's novels featuring Portland detective Archie Sheridan and serial killer Gretchen Lowell have captivated fans through two nail-biting entries, Heartsick and Sweetheart, both of them multiweek bestsellers in The New York Times, USA Today, and Publishers Weekly.

Gretchen Lowell is still on the loose. These days, she's more of a cause celebre than a feared killer, thanks to sensationalist news coverage that has made her a star. Her face graces magazine covers weekly and there have been sightings of her around the world. Most shocking of all, Portland Herald reporter Susan Ward has uncovered a bizarre kind of fan club, which celebrates the number of days she's been free.

Archie Sheridan hunted her for a decade, and after his last ploy to catch her went spectacularly wrong, remains hospitalized months later. When they last spoke, they entered a detente of sorts—Archie agreed not to kill himself if she agreed not to kill anyone else. But when a new body is found accompanied by Gretchen's trademark heart, all bets are off and Archie is forced back into action. Has the Beauty Killer returned to her gruesome ways, or has the cult surrounding her created a whole new evil?

Chelsea Cain continues to deliver heart-stopping thrills and chills in the latest entry in this dynamic bestselling series.
Cain really keeps up the pace in this third book in her Archie & Gretchen series.  Gretchen is on the loose, Archie is enjoying a little "R & R" in a local psychiatric ward, and Susan (who I have to admit is my favorite character) is trying to write a book about the obsession with the Beauty Killer, if Archie would only talk to her.
I thought this book moved the story ahead nicely, leaving enough questions at the end to make you wonder what is going to happen next. Archie has it a little more together in this book, but you can still see Gretchen's effect on him.  The only flaw here for me is that I thought the book could actually have used a little more Gretchen.  She is the star in this saga, and her position in the background stole a little of the book's "oomph".
I sat down and read this in a day.  Do you need more evidence than that?
Page count: 320 | Approximate word count: 96,000
2008: Third Degree (Greg Iles)
2007: The Woods (Harlan Coben)
2006: Why Girls Are Weird (Pamela Ribon)
Used in these Challenges: 100+ Reading Challenge 2009; 2009 ARC Reading Challenge;