2009: #47 – Afraid (Jack Kilborn)
Book #47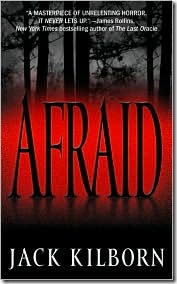 was Afraid, by Jack Kilborn (AKA J.A. Konrath).  The back of the book reads:
ARE YOU AFRAID OF THE DARK? YOU WILL BE . . .

Welcome to Safe Haven, Wisconsin. Miles from everything, with one road in and out, this peaceful town has never needed a full-time police force. Until now . . .

A helicopter has crashed near Safe Haven and unleashed something horrifying. Now this merciless force is about to do what it does best. Isolate. Terrorize. Annihilate. As residents begin dying in a storm of gory violence, Safe Haven's only chance for survival will rest with an aging county sheriff, a firefighter, and a single mom. And each will have this harrowing thought: Maybe death hasn't come to their town by accident . . .
I do read horror every once in a while, and it's rare that a book freaks me out enough that I have to put it down for a bit.  I think the last book that really scared me was Bag of Bones by Stephen King.  Afraid not only did that, it actually made me nauseous at points.  Which means I think it was pretty freakin' great. Kilborn pulls no punches with the cruelty of the Red Ops, not even in the beginning, yet everything came off as completely believable.  I especially loved the little twists he throws in at unexpected points, like who Logan is, the doctor's role, and how Fran is connected to it all. You expect some characters to make it through things unscathed, but you quickly learn that no one is safe, and you can't predict who is and isn't going to die. Thankfully, Kilborn has a second book in the works, because I think he has a gift for terror.
Audiobook Length: 9hrs 40min | Approximate word count: 81,056
2008: Never Tell (Karen Young)
2007: Deviant Ways (Chris Mooney)
2006: Into Thin Air (Stan Washburn)
2005: Back Roads (Tawni O'Dell)
Used in these Challenges: 100+ Reading Challenge 2009; The 999 Challenge;