2021: #62 – Bird Box (Josh Malerman)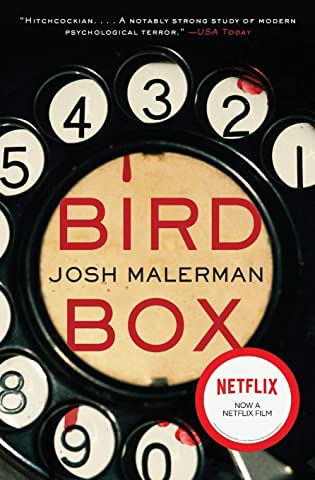 Bird Box
by
Josh Malerman
Series:
Bird Box #01
Published by
Ecco
on May 13, 2014
Genres:
horror
,
post-apocalyptic/dystopian scifi
Pages:
272


Something is out there, something terrifying that must not be seen. One glimpse of it, and a person is driven to deadly violence. No one knows what it is or where it came from.

Five years after it began, a handful of scattered survivors remains, including Malorie and her two young children. Living in an abandoned house near the river, she has dreamed of fleeing to a place where they might be safe. Now that the boy and girl are four, it's time to go, but the journey ahead will be terrifying: twenty miles downriver in a rowboat—blindfolded—with nothing to rely on but her wits and the children's trained ears. One wrong choice and they will die. Something is following them all the while, but is it man, animal, or monster?

Interweaving past and present, Bird Box is a snapshot of a world unraveled that will have you racing to the final page.
I was surprised by how much I enjoyed this read! I watched the movie when it first came out on Netflix, so I was already familiar with the story. I thought this would make the read feel rote and unsurprising. But instead, I was sucked in and engaged, despite knowing where they were going on the river and what would happen when they got there.

I think Malerman does a great job weaving the story together, jumping back and forth in time between the present and the time before the children were born. So much of what happens in that present time frame is explained by what has happened in the past without having to come right out and say it. He has created a very scary scenario, where not only may you lose your mind, but you will probably never see anything outside of your house again. The outside world may as well no longer exist. Malorie's fear and desperation feel real.
Other reviews:
"I would definitely recommend Bird Box, it was one of my favourite reads from last year. It really held my attention and I loved the way the characters all adapted to the situation in completely different ways." — The Book Blog Life
"There's an easy flow to how Malerman writes with no padding, no wasted words, building tension and a sense of terror." — The Tattooed Book Geek
"Overall, the book became very effective in depicting that there's no greater fear than fearing the unknown. What you can't see is definitely more terrifying than what can be seen. This is a book that will make fixated and your heart pound from beginning to end." — BongBongBooks