2009: #49 – Dead Girls Are Easy (Terri Garey)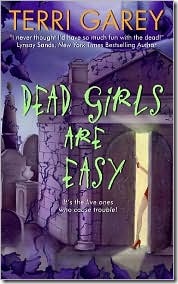 Book #49 was Dead Girls Are Easy, the first book in Terri Garey's Nicki Styx series.  The back of the book reads:
There's something about almost dying that makes a girl rethink her priorities. Take Nicki Styx—she was strictly goth and vintage, until a brush with the afterlife leaves her with the ability to see dead people.

Before you can say boo, Atlanta's ghosts are knocking at Nicki's door. Now her days consist of reluctantly cleaning up messes left by the dearly departed, leading ghouls to the Light . . . and one-on-one anatomy lessons with Dr. Joe Bascombe, the dreamy surgeon who saved her life. All this catering to the deceased is a real drag, especially for a girl who'd rather be playing hanky-panky with her hunky new boyfriend . . . who's beginning to think she's totally nuts.

But things get even more complicated when a friend foolishly sells her soul to the devil, and Nicki's new gift lands her in some deep voodoo.

As it turns out for Nicki Styx, death was just the beginning.
There's nothing particularly complex here, but I enjoyed it.  Nicki deals pretty well with her newfound "gift", and I like her relationships, both with her best friend Evan and her new (and unlikely) boyfriend, Dr. Joe. No one really knows why or how Nicki can now see and talk to the dead, but the voodoo makes for an interesting twist.  Not every dead person is looking for the light. The tone here is also good… It's not as silly as a MaryJanice Davidson, but not as serious as a Laurell K. Hamilton. I would definitely read more in this series.
Page count: 384 | Approximate word count: 76,800
2008: The Whole Truth (David Baldacci)
2007: Holiday in Death (J.D. Robb)
2006: All That Remains (Patricia Cornwell)
2005: I'll Be Seeing You (Mary Higgins Clark)
Used in these Challenges: Spring Reading Thing 2009; 100+ Reading Challenge 2009; 1st in a Series Challenge; The 999 Challenge; Read Your Own Books Challenge;